Name: Dahzire Brown
From: jacksonville, fl
Grade: 12th
School: First Coast High school
Votes: 12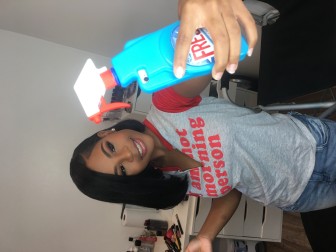 For at least 6 months I volunteered at Brentwood elementary
school helping pre-k through third-grade. Looking for a way to be of
service in the community, and I've always been interested in the
field of education. I started out just helping in the cafeteria and
doing front office work but then ended up in the classrooms. I
absolutely enjoyed spending my time with the responsibilities of
reading to them, helping with classwork, or teaching them new words.
In total I have volunteered 146 hours within the 6 months. When I
volunteered I knew that I would meet at least one child who would
either touch my heart, make me smile or give me something to reflect
upon. It was such a privilege for me to listen to a child's opinion
and interact with them from so many cultures and walks of life. I
have had the opportunity to develop and learn the patience,
sensitivity, and professionalism that are required in a place of
education for children. The feeling I get when I saw those kids
everyday is indescribable almost like as if I have a calling to be a
teacher. Doing so kind've gave me a flash-back moment of times with
my favorite teacher Ms. Graham who has helped me and other students
still to this day with everything that I know now. I was first
introduced to her my 9th grade year in high school. She
has influenced me so much developing me into the young woman that I
am from the way I speak to the way I write. Giving me motivation and
satisfaction to put the same energy into the kids that I volunteer
and seeing the change in their education. Ms. Graham was seen as the
godmother of her students pushing us to know our capability of doing
much more than we could imagine. Most of the children at Brentwood
Elementary come from low-income families and have barely received the
best education in this urban area. The worst part is that the
children grow in the circumstances not knowing their capability and
set their self up for failure at an early age. Which is the biggest
challenge for me is breaking them out of that habit. One day I aspire
to be the " Ms. Graham " of these kids' lives. Although it is
just seen as "volunteering" to others to me it is a life changing
experience. Volunteering isn't just a way to get hours, or to show
how good of a person I am; it is an actual job to me. My experiences
with helping children are among my most fond memories, while the
relationships I've developed through volunteering have shown me what
to aspire toward. Without a doubt the volunteer experience here has
been extremely inspiring learning experience.