Name: Sabrina Longson
From: Salt Lake City, Utah
Grade: junior in highschool
School: Olympus High School
Votes: 0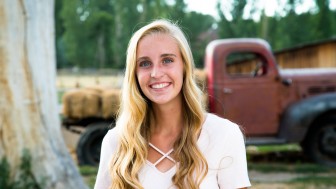 I was raised in a community where I was taught that service is a very
important aspect of life. As a result, I have a very high commitment
level to volunteerism. It is something that will always be an
integral part of my daily life and I have a goal to make sure that I
am completely involved in the service opportunities around me.
From a young age, my parents taught me through example that it is
very important to be the first to volunteer for and service that
comes your way. My parents were always centering our home on serving
others. We would always go down to the homeless shelters and help
cook the food and unload trucks. We would bring items that we could
find at our house that we knew they would could donate to help those
in need. My parents also made sure every Christmas we had a family
we would help serve and provide them with things that they wouldn't
have otherwise. We would also go every year to the shelter and put up
a Christmas tree. Because of this example of constant service in my
home, I now go out and serve on my own. I had the opportunity to take
Community of Caring at school, where every other day I go out and do
service for the community. I took this opportunity to take care and
provide entertainment for Down syndrome kids. I am so grateful that I
was able to serve these kids, because they changed my life and the
way I think.

The church I belong to has also centered my life on service and the
well being of others. Since I was twelve, every Wednesday night, I
would go out and serve those around me who are in need. Often times
we would rake people's leaves, bring them cookies, or just visit
those who are lonely. This weekly reminder of serving others has made
me very self aware of those around me who are in need. It is very
important to me that I am using any skills I have to bless and serve
the people who are in need. My church is also very focused on
volunteering to help out where help is needed. Since a young age I
have been volunteering to help clean the church, help someone set up
for something they have, or volunteer to host a gathering or party.
This push towards volunteer work has helped me notice more often all
the opportunities I have to volunteer. One volunteer opportunity that
I have been involved in is to teach tennis to kids who weren't able
to afford tennis lessons on their own. It was such a blessing to me
to help out these children who are less fortunate than I and see how
much it improved their life. I have been so grateful for the
relationships that I have made through this volunteer