Name: Hana Wyles
From: Battle Ground, Washington
Grade: 11
School: Battle Ground High School
Votes: 0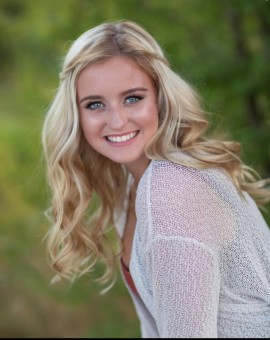 My freshmen and sophomore year I was class president. My junior year I
was the executive secretary. This year I am currently the executive
president. ASB has been such an amazing experience for me and really
sparked my interest in public service. During my time in ASB I have
had the privilege of planning countless dances, assemblies, and other
events that benefit the student body. We get to work with the special
education students twice a year as well when we host a winter dance
and then a field day in the Springtime. Being able to plan events for
the student body, bringing everyone together and watching the hard
work that my ASB class and I put in pay off is such a rewarding
feeling. One event in particular that I am especially proud of is the
Mr. Battle Ground pageant. Each year we select 10 to 12 senior boys
to compete in a friendly pageant to raise money for local charities
or families in need. I have been on the Mr. Battle Ground committee
for the past four years, this year I finally was given the
opportunity to direct the pageant. We are in the midst of planning
right now and are very excited for the show. Being able to donate to
a family or charity is amazing, but getting to watch the effect it
has on the boys and how much they transform as people is even better.
Along with ASB I am involved with the Interact Club. Interact is similar to
rotary just on a high school level. We are dedicated to serving
people. We volunteer around the community. Most notably at Pomeroy
farms and for the local Walk and Knock. Last year I was the
President. Leading the club gave me wonderful experience in time
management, scheduling, and communication. This past year I decided
to step down as president and be treasurer instead. It's been nice to
take a supporting role and act as an advisor to the new president. My
commitment with Interact will continue throughout the balance of my
senior year. I hope that college will offer me a similar capacity.
I am involved with many clubs but I also am involved in sports as well.
I have played Varsity volleyball and golf at Battle Ground High
school for the past 4 years. The pinnacle of my high school
experience was being named the 4A GSHL Volleyball Player of the Year.
For the first two years of my high school volleyball experience I
volunteered as a Community Education Volleyball coach. I tried to
instill a sense of teamwork and love of volleyball in the girls I
coached. It's amazing to see how many lives I touched. One girl I
coached is now a freshman and she was even able to play with us at
the end of our high school season. To know that I had a part in
creating the player she is now is so special. Sports have been such a
huge part in my life and I've loved being able to be apart of
mentoring the next group of girls coming in. I look forward to the
next chapter of my sporting career as I entertain offers from
colleges across the country to play volleyball.