Name: Elif F Onay
From: Staten Island, NY
Grade: 12th
School: Michael J Petrides School
Votes: 3090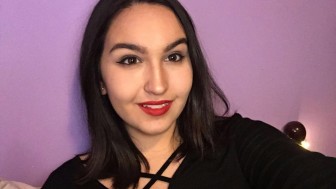 Not everybody in the world is faced with the same opportunities or
privileges. The adverse reality of the world is that some are brought
into society with certain disadvantages. It is the responsibility of
those privileged enough to offer a helping hand to do so. It takes a
life-altering experience, usually, for people to realize just exactly
how much they have in comparison to their neighbors. Life is full of
successes, but it is also plagued with catastrophe. Not all who have
fallen have the strength to build themselves back up from the ground.
The weight and burden of poverty is usually enough to leave most to
give up and turn their backs on hope. Habitat for Humanity is an
organization that focuses on making it simpler for those people to
get back on their feet. The organization has a chapter in my school
in which I have participated since my freshman year, however, it was
not until a recent event that my perspective on the world was altered
permanently.
Ever since elementary school, Habitat for Humanity captivated me. The
students would be giving up their Spring Break to travel to an
unknown area just so they could hopefully make a difference in a
perfect stranger's life. From that moment, I was set on joining the
club once eligible. In freshman year, I ambitiously made my way into
the club, participating in local fundraisers and clean-ups. Once I
turned 16, I was eligible to participate in the annual long distance
build. It was finally my chance to expand more into the world and do
my part to make some sort of difference.
Last year, the build was in Franklin, West Virginia, a quaint town, full
of agriculture, animals, and most of all, poverty. It took some time
for adjustment as it was a time of many "firsts" for me but
nonetheless, all my worries and woes were pushed aside when we began
our project, which was to build a ramp for a family of four from
Guam. Vividly I remember meeting the Cruze family for the first time.
The Cruze family, whose uncle was wheelchair bound, did not have
sufficient funds to buy a ramp for the house. It really tugged at our
heartstrings when the realization that Mr. Cruze could not leave his
house even for fresh air whenever he wanted to had dawned upon us.
After a week of planning and building, the ramp was completed. The
time came to see Mr. Cruze wheel down the ramp for the first time.
The look on his face was truly life changing.
While I cannot strive to save the world by myself, this experience has
taught me several things. Most importantly, I have learned the value
of working with a team and have gained a sense of empowerment in
knowing that I can affect social change.