Name: Emily Elizabeth Hall
From: College Station, Texas
Grade: 12th Grade
School: Texas A&M University
Votes: 0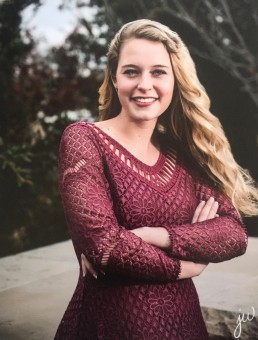 My first distinct memory of the
delight that came from serving someone was the summer after my sixth
grade year. I traveled with my church to Meridian, Texas, and for a
week in the humidity and heat my work team re-built a porch,
re-insulated a room, and painted several rooms. Even in the Texas
heat and a quick trip to the hospital for stiches, my week couldn't
have been better. There was an adrenaline and satisfaction I received
from helping others: something that a week at the beach couldn't
beat. Since my sixth grade mission trip, I have attended seven
additional mission trips, including traveling to Latvia and
volunteering as a Camp Counselor for a summer and spending my Spring
Breaks on mission trips in Costa Rica. I found that helping others
and being around other people was my "drug" it made me feel
content and carefree. However, my enthusiasm of helping others isn't
just confounded in a summer or spring mission trip. Every Monday
afternoon I volunteer at Victory Therapy Center, a therapeutic riding
center for people with special disabilities. Through my five years
volunteering with the clients and horses of Victory Therapy Center I
have gained knowledge and understanding of others' needs and
differences. As a volunteer at Victory Therapy Center, I assist the
riding instructors during the classes and serve as a "leader" or
"sidewalker". As a leader, I am responsible for leading the horse
and rider through different routines and exercises- this sounds
simple, but this job is a huge responsibility and often quite
stressful. As a sidewalker, I walk at the side of the horse and
assist the rider- sometimes this means holding up their back because
they can't support themselves, or just holding their thigh to make
sure they don't shift off the horse. While volunteering at Victory
Therapy Center, I've gotten the privilege to work along side the
physical therapists and veterinarians- whom has both strongly
influenced my goals for my future. During the past summer I spent
over 200 hours at Victory Therapy Center completing my Girl Scout
Gold Award, in which I planned and created a sensory station in the
indoor arena and for
painting an interactive mural of a horse in the therapy room. The
interactive mural serves as hands on activities for riders to learn
about over 100 parts of the horse. The sensory station is all sensory
oriented and includes blocks that were cut, painted and hung in the
indoor arena and are used to build speech and cognitive skills.
Volunteering establishes a
sense of happiness and gratitude in my life and makes me realize that
it's okay to be different, because without difference our world
would be extremely boring.