Name: Maria Cecilia Guzman
From: Cold Spring, MN
Grade: Junior
School: Rocori High School
Votes: 35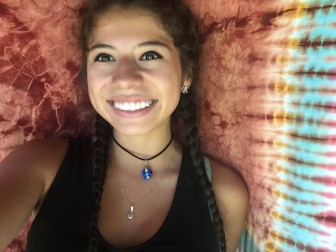 During the spring of my junior year of High School, I was thinking
about volunteering with some sort of program where I could help out
the youth within my community. I was thinking of different
organizations when I remembered about Big Brothers Big Sisters of
Boys and Girls Club. My older brother's girlfriend had been a big
for a few years at that time, and she always mentioned how much she
loved the program. Because of this, I decided I really would love to
be a big for someone who might need someone in their life.
After initiating this, I didn't hesitate to undergo the application
process. To be frank, I was a little nervous about the whole ordeal
just because I wanted to make a change so badly, and being a Senior
in high school that upcoming fall might've hindered that. The
coordinators in the program did warn me that it was very rare that
they accepted high school seniors due to the possibility of leaving
for college within the next year, which I understood full heartedly.
Luckily for me, they saw how badly I wanted to be a part of their
program and accepted me.
Shortly in the following fall of that year, I was able to be matched
and meet my little sister. (Due to privacy, I will not be giving her
name.) I remember the first day I met her; we sat down together with
our coordinator discussing rules and opening up some things for us to
discuss. During this discussion I couldn't help but smile at my
little's timid personality. It wasn't until we were finally alone
that she opened up just a tiny bit. Throughout this year I have met
with my little every Friday, getting to know her more and more.
We did different things each time we met, whether it was games,
drawing, watching movies, or just simply playing outside. The times
that meant the most to me were the ones where she let me inside her
life. Now I did always let her know she could tell me anything, but
didn't have to if she didn't feel comfortable. I had good
communication with her mother, and it was one day that her mother
simply asked me to check in on my little due to some family issues I
was unware of at home. I told my little that her mom wanted me to see
if she was okay, and to my surprise, my little opened up to me about
what was going on. It was that moment that I felt so happy that she
felt comfortable enough to just listen to her, which is all I did.
She went on to tell me things that I was happy enough to be the one
she chose to tell. After that long discussion, we gave each other a
hug. I had never felt so instantly connected to someone, and feeling
as though I did something to help. Even though it was just me
listening and her talking, it was definitely one of my most favorite
memories.
In a very short amount of time I fell in love with the person I saw
my little to be. Each visit I would be able to see her pure sense of
humbleness and selflessness. I would witness her being a mother
figure to the other children at her local Kidstop, and always being
ever so kind. I was stunned that someone could be so generous, all
the time. She was always offering her aid in helping, and always
asking me what I wanted to do or have me pick the activity for the
day. I learned that it was just simply her, and how she was. I felt
very lucky to have met someone so influential like my little.

I think looking back on my experience with my little now that our
time is coming to a close, I can't help but want to thank her. She
did so much for me, when I was never expecting an impact such as
that. She made me reevaluate how to treat others, and that kindness
is never overused. She made me think about the person I was, and who
I wanted to be. I know it all sounds so dramatic, but it's true.
Maybe it really does only take one person to listen, talk, or just be
there to make a difference. I don't think we take the time to
consider how much one person can impact our lives. She impacted mine
tremendously, and I cannot thank her enough for doing so. I'm lucky
that I was chosen to be her big, and I'm even luckier to have had
such an amazing little.