Name: Alexandria Michelle Swinson
From: Hinesville, GA
Grade: 11
School: Liberty County High School
Votes: 0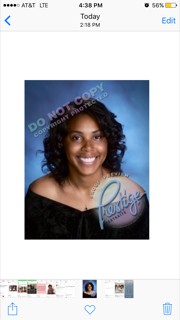 Alexandria
Swinson Youth Forward Scholarship
As
a highschool student, I have made several contributions to my
community through various service projects. Community service is very
meaningful to me because I get to impact people's lives through my
ability to help someone in need. For example, in my First Aide and
Safety class we raised over $2,000 for the American Red Cross to
provide care packages which included shelter, food, water, and relief
supplies, in order to help victims of the South Carolina flooding in
2015. Moreover, in 2016 when Hurricane Matthew destroyed parts of
coastal Georgia and Florida, National Honor Society collected over
200 canned good items to donate to the Manna House for families in
need. However, this year, as the President of National Honor Society,
we will raise over $5,000 to donate to the Relay for Life Foundation
to help individuals with cancer. Through these service projects, I
learned how to be grateful of all the things I do have, such as food
and good health. However, out of all of these contributions that I
have made within my community, my most significant contribution has
been my involvement within my church. For the past six years, I have
been a children's church volunteer at Live Oak Church of God in which
I get to not only teach children about the word of God, but train
them to impact the world around them. According to Proverbs 22:6,
train up a child in the way he should go and when he is old, he will
not depart from it. This scripture is significant because it is the
fountain of discipline for moral character. Moreover, according to
Nelson Mandela "Children of today are the leaders of tomorrow and
education is a very important weapon to prepare children for their
future roles as leaders of the community." It is the job of a
leader to create more leaders in the world to become successful human
beings. As a volunteer, I am also a compassionate counselor about
situations and problems that affect a child's daily life. As a
counselor, I have to make sure that the children's sense of love
and self assurance are fulfilled. I believe that every child needs to
feel loved in order to fulfill his or her purpose in life. It is
important for every child to know that he or she has the potential to
make a greater impact in the world. Finally, forward looking to me,
would be society realizing we should inspire children to be the best
they can be, which is my biggest challenge. If I were to look back
ten or twenty years from now on the volunteer activities I have done,
I would realize that i have made a difference in an individual's life
by providing a good they needed, such as food for the Hurricane
victims.