Name: John Michael Riness
From: Traverse City, Michigan
Grade: College Freshman
School: Northwestern Michigan College
Votes: 0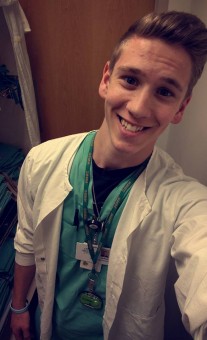 Four years ago I attempted suicide. At the lowest point in my life I got
help from a volunteer counselor at my church. I was blown away by his
selfless, giving attitude. I realized that I had the potential to
bless people the way I was blessed.
So I dove head first into the world of volunteering! I started serving
food to the homeless on thanksgivings, donating blood regularly, and
cleaning trash off of the Great Lakes shores. Then I signed on as a
leader at Elevate Student Ministries. It has a weekly attendance of
about 250 students, 6th-12th grade. My small group consists of about thirteen 7th
grade boys, and I am at the student ministry building 2-3 nights a
week.
Every Wednesday night I play basketball and other games with all of the
kids. I help with homework, and then I help keep the kids in line
during worship and the message. I am CPR certified, and have other
medical training so I also serve as a first responder there.
Afterwards my small group and I talk about the message and how we can
apply it to our daily lives. I help with our weekend retreats, and
all-nighters, and play basketball with the other leaders and students
on Monday nights. All of the kids in my group have my number and they
often text or call me asking for advice, prayer or just telling me
about some of their home-life struggles.
For me, the most difficult thing about volunteering is finding the time.
I am a full time pre-med student at Northwestern Michigan College and
I work 30 hours a week. Volunteering will never be easy to fit into
the craziness of life, but it will always be worth it.
Many of the boys at my youth group come from broken homes. One parent is
either in jail, or is physically and/or sexually abusive, or one
parent is dealing with alcohol or drug addiction. These boys don't
have anyone in their life that comes through for them; no one that
they can count on. But I have the opportunity to be there several
days a week, and to be a sort of big brother that they CAN count on.
When I see their face light up when I walk in and they give me a high
five or a hug it is one of the most amazing feelings in the world.
Volunteering with these boys has not only brought me an abundance of joy, but it
has shown me that you don't need to be a world leader to change the world. I used to scoff when I
heard the phrase;"One man can change the world," but
volunteering has shown me that everyone has the ability to change the
world around them. It has given me the desire to become a pediatric
surgeon, and to help and change MY world. If you want to leave a
legacy in YOUR world…volunteering is a good place to start.