Name: Samantha Johns
From: Spring Lake, MI
Grade: 11th Grade
School: Spring Lake High School
Votes: 0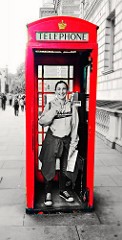 I have
volunteered in multiple areas and places throughout my life. While
living in Tanzania, I attended a school with a strong focus on
service, with weekly service projects as well as an annual all-school
Service Emphasis Week (S.E.W.). This service learning focused
specifically on volunteering in the community, teaching English at
local, Swahili-speaking schools, working at local hospitals and
orphanages, and even teaching at a school for deaf children. Students
were given increasing responsibility for the service projects. When
I was in Grade 9, our class of 25 was split into two groups and each
group had to design, fundraise for and execute a project that would
benefit the community. I co-led one of the groups and was
responsible for organizing our group, guiding the group through the
process of developing a project proposal, holding fundraisers to
cover project costs and then getting everyone involved with making
our idea a reality. Our group organized and ran a soccer tournament
at our school for street kids from a local non-profit organization
called Safina. As part of the event, we provided lunch and soccer
jerseys for all of the kids who played. This was one of the proudest
moments of my life because not only was I able to organize and
successfully execute my own service learning project but I was also
able to bring some joy to the lives of these kids and provide an
opportunity for my classmates and I to interact and play with these
kids as equals.
While in
Tanzania, I also volunteered at a kids club in which local kids came
to our school in the afternoons to play on the playground and have
fun, then listen to a short lesson. My responsibility was to play
with the kids while making sure they were safe and having fun. This
was another way in which we gave local kids the opportunity to step
away from the hard everyday grind of life in poverty situations to
just be kids, as well as to learn important biblical lessons each
week.
In the U.S. I
have volunteered at my local church's Family Fun Night for foster
kids, which included leading the kids in games and activities such as
rock climbing and basketball.
Almost all of the
volunteering that I have done involved helping kids, whether it be
teaching English, entertaining sick kids in the hospital, or even
just helping them to have fun during the week. I have focused my
volunteering on helping less fortunate communities to find joy in
their often challenging lives. My career goal is to become a wildlife
biologist and my focus would be on helping local communities in
developing countries to understand the wildlife around them and to
help these communities utilize their natural resources without
destroying them. My goal is not to make a huge difference in one
place, but to make a difference in many different communities all
over the world, and, in the end, create a better world and
environment.