Name: Jason Beasley
From: Richmond , Kentucky
Grade: 11th
School: Madison Central High School
Votes: 0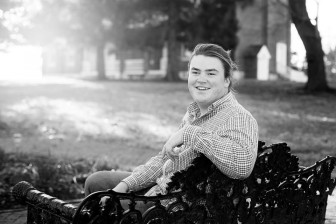 Jason
Beasley
To
Whom It May Concern
Youth
Forward Scholarship
Outstanding
Character
It seems that the modern teenager today lack morals and sometimes
ignores what is right even when it is known. Something that sets me
apart from others is my outstanding character. Having outstanding
character describes me because having character means to be giving,
selfless, and putting others before yourself. I am not perfect but I
strive every day to obtain these qualities through my actions. All of
my inspiration and motivation comes from my faith. The Bible says to
love everyone and take care of those who need help. I have a part
time job to pay for bills, food, and gas. I always tithe at my church
every paycheck I get; along with sponsoring a children for forty
dollars a month. Giving is not limited to money. It can include time
or skills. At school I use my third period to volunteer in the
Special Ed classroom and help tutor and mentor the students.
I have always considered myself a very outgoing person so I try and use
that skill to communicate and connect with people. For the last six
years I have been involved in an organization called Kentucky
Changers. One or two weeks out of the summer I go to a different
Kentucky town and pay to do construction work for lower income
families while sleeping on the floor of the local school. This past
year I applied and was selected to take part in a leadership role. My
duties included labor intensive tasks like moving supplies and
setting up for different events. But the part I enjoyed and really
felt I made a difference was when I was mentoring, teaching, and
leading students throughout the week. My ultimate goal was to
hopefully connect with the students and let them know I was there for
them. While teaching those skills and lessons I've learned that
helped me become the person I am today. I plan on returning this
summer for four weeks.
In my hometown, we have a local domestic violence shelter called Hope's
Wings. Over the past couple years I have been there numerous times to
volunteer doing construction projects or fellowshipping with the kids
and women who live there. I even got the opportunity to help a family
move to a place of their own and start a new life. I have also
organized drives (food, clothes) and been invited and attended
rallies and marches in support. Other community service projects have
that I participated in include: The Special Olympics, Feed My
Starving Children, and The Day of Hope.
I have always tried to get involved with activities I participate in. I
am the VP and a leader of two clubs I am in at school. At my job I
have advanced to second in command out of the employees and often
train new people. I get involved in my community by volunteering with
local political campaigns. Although, I consider myself having good
character; I will always try and improve while I continue my journey
through life.
Volunteering is not something I do to get personal satisfaction or to prove I am a
good person but to truly try and make a difference. My hope is that
the people I effect with my work will continue with them to others.
It will create a "chain of love" where eventually everyone will
learn to help and love each other. My goal is not to leave a good
name for myself but reach as many people as possible directly or
indirectly. As for my life moving forward I will continue to help
people through my career and volunteerism. Although, I consider
myself having good character; I will always try and improve while I
continue my journey through life.