Name: Gabriel Jose Moran-Deleon
From: Jacksonville , Florida
Grade: College freshman
School: Southeastern University
Votes: 0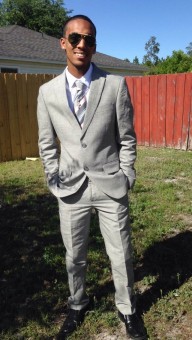 Volunteerism is
an important part of a community; do not matter in which area you
offer your time someone will benefit and will better now or later in
life. I have volunteer with the Red Cross working with children at
the hospital pediatric clinic, also offer my time with the
organization "I AM STAR" foundation that work with homeless
students, at work with the community in areas of child obesity, and
financial illiteracy. Are so many areas that a community need
volunteer it is hard to do only one area for that reason I joined "I
AM STAR". They provide service for the entire community in
different areas. I volunteer and average of eight hours per week
during school time in the summer is about 12 hours per week. I have
different position and responsibilities. I had taught financial
classes, lead teams on fundraising, take food and supplies for
homeless student.
Volunteerism it
is great but has some challenge and the most crucial is time. It is
hard to balance your time among school, sports, and family. Your
desire to help others must be strong to escape the temptation to do
other fun activities or be with your friends. Another challenge is
work with other individuals. Teamwork is key to have a successful
organization able to help the community. Personality conflict and ego
can get on the way to provide the service the people need. Once you
overcome those barriers the satisfaction of helping another human
being is feeling that last forever, you can receive instant reward
when you provide humanitarian help in the form of food, clothes or
supplies or when you mentor and advise a person in trouble. That is
the most important reward of volunteerism.
When you
volunteer sometime, you receive more that you give, personally
volunteer has given me the opportunity to grow mentally and
spiritually. I have learned skills such as speaking in front of
people, mange time and resources, and work with others. Consistent
with those lessons I will continue to volunteer; my goal in life is
to become a doctor, so I can volunteer some of my time in serving
other in clinics or traveling overseas to offer my service. I see in
my future a continue process to volunteer individually or with an
organization that provide diverse service to the community. The term
"looking forward", mean to find ways in the future to expand the
volunteer ways to reach more people and affect more communities. I
will continue to volunteer because provide an example to others that
helping others is important and create spirit in the community.
Whenever you touch a person you influence that person, and example
our foundation "I AM STAR help homeless students, one of those
homeless student in the future could become a doctor, engineer and
will volunteer and help others like some took the time to help him,
another ring to the chain in volunteerism.
Gabriel J.
Moran-Deleon
Attending:
Southeastern University 2016-2017
Junior,
Jacksonville, FL