Name: Aakaiya Carter
From: Baltimore, MD
Grade: 12th
School: Virginia Union University
Votes: 0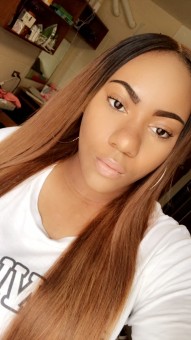 Community service is unpaid work intended to help out society and
the environment. It is a non-paying job performed by someone or a
group of people for the benefit of the public or its institution. The
area that I have chosen to volunteer my servvices in are involving
the church, schools, and homeless shelters. I have volunteered about
6-8 hours a week.
My responsibilities as a volunteer were to help better the
environment, show positivity, help others who are in need, to be
exposed to more opportunities that will allow me to explore other
careers as well as the career that I am interested in. Volunteering
at the school I helped file and send off paper work, answered phones,
set up classrooms, and help with summer school programs. When I
volunteered at my church I have donated clothes and food, I help the
church move into a new building, I became a youth leader, and
teaching the kids about the importance of the bible. Also, when I
volunteered at the homeless shelter I created care packages for the
homeless, I cleaned up the homeless shelter, donated food, and helped
in the soup kitchen.
My biggest challenge as a volunteer was helping out in the homeless
shelter because a lot of people did not want to accept my help. The
homeless people and less fortunate people would decline help because
they want to be independent and they do not want people to judge them
because they are in a hardship. I tried my absolute best to help them
even if they were not willing to receive my help. I had to let them
know that I am not here to judge them or hurt them but, I am only
here to help them.
The satisfaction that I get out of being a volunteer is the ability
to help change someone's life. I love to give to the needy, less
fortunate, and the homeless. Being a volunteer also helps me to
better my future and career. I am able to gain more professional
experiences, expecially since I would like to be in the business
field. It allows me to be around different people from different
backgrounds and lifestyles. Community service and volunteering
strengthens your community by supporting families, improving schools,
improving the neighborhoods, supporting the youth and elderly,
helping the homeless, and beautifying and cleaning the community.
Since I have been a volunteer I have learned that giving back to the
community is important because it shows that you care about others as
well as the society that you live in. It also shows that you are not
selfish and that you are willing to help others who are in need. When
you bless someone you will be blessed as well. Engaging in community
service provides students with the opportunity to become active and
positive members of their community. Also engaging in community
service allows individuals to acquire life skills and knowledge as
well as providing their service to help others.