Name: Raydon Drake Lobrin
From: Salinas, California
Grade: raydondrake@gmail.com
School: raydondrake@gmail.com
Votes: 0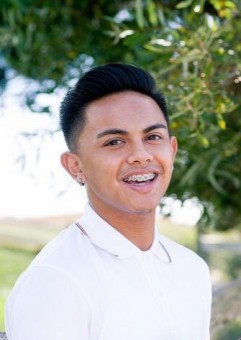 As humans, we all have passion within our souls. The sad part, is that
some never realize what their passion truly is. We live in a world
full of bureaucracy. Money is our motive. People never stop to think,
why am I on this earth? What is my purpose? That is the big question;
thankfully, my purpose strays from bureaucracy. It is more focused on
the concept of motivating others to strive for a successful life
through teaching.
During my Junior year, I was privileged to be given the opportunity as the
head choreographer of my school's production of "Grease".
While in this leadership position, I was able to fully understand a
teacher's perspective in a field that I grew so much passion for.
Furthermore, this position had its' minor setbacks. In high school,
peer to peer teaching is extremely difficult. Many students do not
find you credible as a "teacher" if you are not an adult or
have achieved something that shows them you are "worthy" of
being listened to. Although it was a challenge to persuade my peers
with rhetoric that would motivate them, I eventually gained their
trust; and they were able to fully understand my vision and master
it.
My position held during my Junior year prepared me as a dance
instructor, for a dance studio in my city known as the "2nd Most
Uneducated City", according to Forbes magazine. As a dance
instructor I realized that my long term goal truly is to help others
realize the talent within them. As a choreographer, I teach my
students the purpose behind movement and how each dance you learn
there is a story being told; and that story that you perceive
represents who you are as a unique innovator of society. Of course,
this style of teaching takes patience to communicate. I spend a total
of two hours every day, Monday through Friday, teaching my students
at the studio whose ages range from five years old to eighteen years
old. I ensure that the environment surrounding the students is
positive, because positivity is the only way to reach the students
without making them feel inferior. For example, if they cannot
understand the message behind the song or the movement, I always make
sure to say "You're doing a great job, now work on this." With
this type of positive tone, the student will not hesitate to learn
more from you; as long as they are mentally aware that you are trying
to help them.
The moment I realize that one of my students is able to understand the
concept being taught; after a high level of frustration balanced by
motivation, I truly become happy. This led me to discover my calling
as Filipino-American Club President and Senior Class Vice President.
From my experience in these clubs, I now know that my future will
consist of building deep relationships with youth; especially in
cities that need their youth to be fostered most.