Name: Megan E St John
From: Santee, California
Grade: 11
School: Santana High School
Votes: 36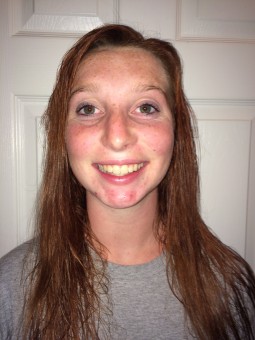 In 4th grade, I sold enough Girl Scout cookies to earn a week at Summer
Camp.  I am thankful for meeting that sales goal as it led me to
attending summer camp every summer since, and yes, I paid my way each
time with my cookie sales even being recognized in high school as the
girl dragging around the suitcase full of cookies!  At that
first Girl Scout camp I set my next big life goal–to be a camp
counselor.   My Girl Scout experience prepared me for this
role through involvement in community service.  I started off
with small community tasks like helping at the Santee Food bank,
planting trees, and volunteering to help at local 5K runs.  As I
got older and became a model for younger girl scouts, I viewed
volunteering as an important way to connect people in our community.
I started organizing younger girls at the events we volunteered
at and became involved in Santee Santa's.  I enjoyed the
younger scouts coming to me for direction, advice and camaraderie.  I
have averaged more than 50 hours each year in volunteering positions
through girl scouting since Kindergarten.   By far the most
rewarding and difficult experience I've had was while volunteering
as a Counselor in Training (CIT) at Girl Scout camp.  Though I
learned different skills specific to camp, such as meal portioning
and outdoor cooking, I also learned how to deal with conflict among
peers, contemporary issues, and stress management — all skills I
will need as I continue to develop throughout life. I had a camper
who was homesick and whatever I did couldn't help her feel better.
When she began to talk about home, I'd change the subject or
redirect her attention.  Nothing worked, and I was beginning to
doubt my effectiveness as a counselor.  I was too anxious to get
to the next step to eliminate her homesickness, that I didn't
consider letting things happen naturally.  Finally, I got her
talk about home until she missed camp. The next day she was so
excited about all the camp activities; she was like a new person.
While helping her, I realized I needed more patience, to be kinder to
myself when I failed, and admit when my approach wasn't working.
Everything I learned in that one night about letting things
flow naturally and not trying to follow a checklist is going to help
me become a better person. Patience and the ability to tolerate a
delay will help me in college as well as in my future job in
veterinary medicine if and when I can't quite figure out what is
wrong with a patient. Being kinder to myself when I fail will make me
a happier person, and kinder to others overall. Admitting when my
approach has failed, or when I am in the wrong, will help strengthen
my relationships with others and give me a better support system
throughout life.  Future volunteering is bound to continue as
giving back is part of me.