Name: Aylin Henstridge
From: Riverside, CA
Grade: 11
School: Aylin Henstridge
Votes: 0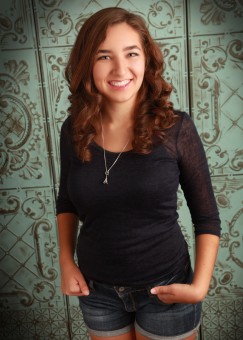 As
I walked past the cage, I heard a faint whimpering from behind the
kennel bars. I looked over and saw the smallest puppy you could
imagine buried underneath some blankets. The rest of his litter had
been adopted a week ago, and he was left all alone. I opened the
door, and his tail started wagging as soon as I sat down. We began a
round of fetch and after only a few minutes he had warmed up to me
and we were best friends. It took about twenty minutes more of this
before a family walked by and saw the way the puppy was interacting
with me. Ten minutes more and they requested to play with him in one
of the rooms for potential adopters. And then, an hour after that, my
little paw pal was being adopted into his forever home, his tail
wagging, and his tongue hanging out. My experience volunteering at
the Mary S. Roberts Animal Shelter allowed me to make a difference in
the world, even if all I was doing was keeping the puppies and
kittens company until they could be adopted, I knew I was making a
difference in the lives of all the animals I socialized.
Since
I was a child, I desperately wanted a pet, but because of a history
of allergies in my family, the only pet I was ever able to have was a
few fish at a time. Then, my sophomore year, I came across my local
animal shelter and soon became a frequent visitor, volunteering
around two to three hours a week. I would play with kittens and
puppies, read books to the older cats, and take the large dogs out
for walks and some rounds of fetch or tug-a-war in the play yards. I
would train them to sit, stay, and to walk on a leash. Basically, my
job there was to make them social, friendly, and well-behaved so they
would be adopted into a nice home. Like every new volunteer, I had my
own set of challenges and it took me time to move past my fear of
getting
bitten or accidentally letting an animal loose on the property and
the wave of sadness that came with saying good bye to a pet that had
just been adopted.
Through
my volunteer work at the shelter, I learned how to care for the
animals,
gained people skills and became much more confident. All skills that
will benefit me in the work place as I move forward in life. Although
I didn't change anything big in the world or save a life, I knew I
was making a difference when I saw that puppy's tail start to wag.
I had a purpose and that was to change the life of the animals living
there and I know that in the future my impact may not be noticeable,
but it will always be there, in the forever homes of the animals I
loved and cared for.