Name: John Drazba
From: Glenville, NY
Grade: 10
School: Niskayuna High School
Votes: 0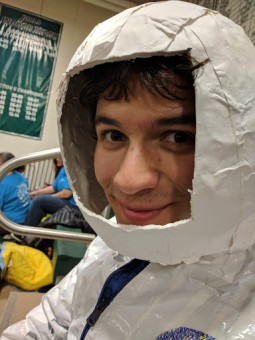 Having
lived through an injury myself, I identify with the debilitating
effects. I know firsthand the recovery process takes time. I took a
hard fall on the asphalt when running, and I came down directly on my
patella. This left me hurt and immobilized for months. During my
recovery period, I came to realize that it takes work, commitment,
and encouragement to keep up with the rehabilitation exercises and
regain your strength. Being down really took away from my quality of
life.
My
dad is suffering from cumulative high school sports injuries. My mom
deals with spinal issues after many years as a dental hygienist.
Once I got back up and running, I came back stronger than I was
before. I decided I wanted to make a difference and support people
in similar situations. I made the commitment to volunteer at
Sunnyview Rehabilitation Hospital. I am a constant presence on
Fridays and come in other days when my busy school schedule allows.
I take pride and enjoyment working with patients, sometimes simply
offering my company and conversation. I extend many an invitation
and encouragement to patients to join the group for some therapeutic
activities. This may include crafts or a game of cards. The
comradery and involvement aids in their road to recovery.
Patients
can be a little confused at times due to their injuries, and it can
be challenging to work with them. I try to empathize and make them
as comfortable as possible. I take satisfaction in helping each and
every patient I come in contact with. Just a smile is enough of a
thank you. Last year I was honored to receive the President's
Volunteer Service Award, signed by our former president, Mr. Obama.
Volunteering
at Sunnyview has given me a greater appreciation for helping other
people get back on their feet again. I no longer take anything for
granted, and I live each moment of my life to the fullest. I realize
that in an instant, one's health could be pulled out from under
them. Nothing is guaranteed, and a "picture-perfect" life one
second could easily be torn down in tragedy the very next if one is
not careful. This volunteer experience has been very eye-opening.
With everything I do, I try to work to make a difference and help the
world. I hope to be making a positive impression on the people I
come in contact with, and I know they are making a positive one on
me!
Looking
towards the future, it is too early for me to say what it is I want
to pursue, but I do hope to keep up the volunteer work as long as I
can. I firmly believe that I am helping to make the world a happier
place, and the positive feedback I have received is a good sign that
I am in fact doing so. I am so very happy and proud to be a
Sunnyview volunteer!