Name: Aliyah Hopkins
From: Mount Vernon, New York
Grade: 11
School: Nellie A Thornton High School
Votes: 0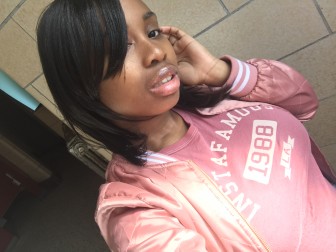 Life
is a Cycle
Volunteering
or paying it forward is one of the most fulfilling acts a socially
responsible individual can perform in his or her life. I strongly
believe that we are each others keeper and giving a helping hand will
not only makes a difference in someone else's life but ultimately
in ours.
My
very first time volunteering was when I was about 8 years old. On
Thanksgiving Day a group of us my mother's friends and their kids
went to a food bank to help to distribute care packages to the
members of a community in Washington D.C. I had so much fun
interacting with the families and their children. To be honest, at
that time I just loved and felt a sense of responsibility preparing
the packages.
My
second encounter was when I was around 10 years old while attending
an Enrichment program in Riverdale, New York. We were required to go
to a Nursing home in Riverdale once per month for four hours and be a
companion to a resident. This was a very good experience for me,
while volunteering I met several veterans who freely talked about
their experience while giving service. Not only did this experience
help me to understand what some of these service men went through but
it also opened my mind about the importance of companionship, the
resident looked forward and enjoyed our visit. Some of them did not
have any family.
I
have volunteered on several other occasions at nursing homes in my
community, whether via my church. During this time a group of us
would sing church choruses for the residents, it always made my heart
very happy just to see the look of happiness on the residents faces
while we sing. I have also volunteered to tutor younger children at
my library.
For
the past year, I have been volunteering at my church soup kitchen two
Sundays per month for two – four hours. My role is helping with
preparing and handing out care packages, serving meals and cleaning
up at the end of the soup kitchen. I have learnt the following:
Humility:
I never view myself above anyone

Gratefulness:
I have learned to be more thankful for what I do have

Patience:
not everything will happen when I need it to

Not to be
judgmental: I have learned not to pass judgment or speak about
another person's state

Sharing
My
main challenge in volunteering is time, now that I am a senior I have
so many obligations, college visits, writing college essays,
preparing for graduation and now I have a part-time job to help with
my prom expenses and to save for college.
Life
is a cycle and giving back is one of the main ways that we can help
with the sustenance of our community. I plan to pursue a career in
the health field and forensic science with the scope to help heal the
sick and with crime reduction.