Name: Elizabeth Nicole Vogt
From: Pittsburgh, Pennsylvania
Grade: 11th
School: Serra Catholic High School
Votes: 0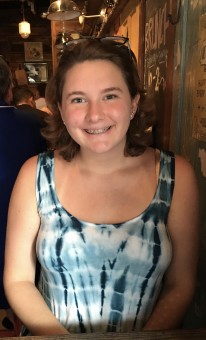 Treat
others as you wish to be treated; my whole life I have been taught to
live by this motto. Although this may have been expected of a
Catholic school student, it did not make it any easier to follow. It
took me several years to realize my passion for service and it was
not until last year that I truly understood its significance. This
realization, however, has forever changed the lives of myself and
those around me.
Service
work is the pathway to peace. This concept and my desire for helping
others helped me decide to start my own faith-based service club at
my school called Hands of Christ. Through both this club and my
service work outside of it, I have lost track of the different things
I do for others. Sometimes I do several hours of volunteering in only
a week or sometimes in a month or more span depending on the
opportunities. However, one of my most memorable experiences was at a
mission trip with Young People Who Care in Frenchville, Pennsylvania.
On this mission trip we focused on helping the community in anyway
needed or possible which is the type of service I enjoy most. We did
all things ranging from painting decks or houses for the elderly,
visiting a nursing home, or cleaning up a flood site. I enjoy having
varying things to do because everyone needs help in different ways.
Over time, I started appreciating my work more and finding peace in
it. Not only peace for those I serve, but peace for myself as well.
From delivering provisions to the food bank to shoveling snow for
those that cannot all service is important to me and makes an impact.

As
a leader in my school's volunteering, I tend to have high
responsibilities. I contact students about our opportunities and set
up our service. I am expected to be at our activities however, this
is never a problem for me. Nevertheless, there are still challenges
to what I love to do. Ever since I was little I have been extremely
empathetic making it emotional for me at times to see people hurting
or in need to the degree that I could not help them. For the most
part, the hardest thing for me to see is when the elderly hurt
because it hits so close to home although that has never stopped me.
Along
with the obvious joy anyone receives from doing good by others one of
the most satisfying aspects of volunteering is the relationship it
has given me with God. It has brought me closer and more open to Him.
I am eternally grateful to be able to make a meaningful difference in
someone's life while doing what God planned. My work has helped me
learn so much about myself through God. I learned that I want to
continue my passion and to be more genuine and caring all together. I
only hope that my impact will not stop here.