Name: Madison Valois
From: Fall River, MA
Grade: 11th grade (12th in 2016-2017)
School: BMC Durfee High School
Votes: 0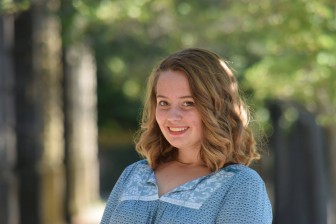 Peers
with Passion
Throughout
my four years at BMC Durfee High School I have been extremely
involved in my school's performing arts program, primarily the
orchestra. The performing arts programs in my school district are
terribly underfunded, which leaves us with many inadequate
instruments and does not encourage students to stay in the music
programs. Most elementary and middle school students use instruments
provided by the school, causing them to drop out of the music
programs before they even reach the high school level because of the
low quality of their instruments. Every year, all of the orchestra
students in the district take part in a citywide concert, and I have
volunteered for the past four years in hope that I will encourage
younger musicians to stay in the performing arts program throughout
their entire public school career.
Although
these concerts only happen once a year, I spend about three hours
after-school daily throughout one week to prepare for their
rehearsals and the actual event. I mentor the younger musicians by
sitting with students who are not confident with their playing, and
it is fulfilling to see them learn the music and become more
comfortable while playing their instrument. The best part is seeing
students return every year, because it proves that our effort is
worthwhile and younger students are inspired by the high school
mentors. I have been playing violin since fourth grade, and I
remember being amazed by the skill of the high school musicians. I
dreamed to achieve their skill level one day, so to be having the
same type of impact on these younger musicians is incredibly
rewarding. Playing violin is one of the most important aspects of my
life, and I hope that these students will someday develop the same
passion for music that I have.
Seeing
students return to the citywide concert annually is reassuring that
the music programs in my community will not vanish, and I have faith
that these musicians will continue to inspire the younger generations
to stay in the music programs. Despite the financial struggles that
the arts programs face, I hope that someday I will return to my high
school and see that the music programs are thriving. Passion can
overrule any problems; dedication and practice can make music sound
beautiful, even on instruments that are not the best quality.
Although
the citywide concerts are motivating to the young musicians, it is
also an enriching experience for the volunteers who mentor them. I
have volunteered at this concert for the past four years, and it has
helped me realize that I can have an impact on someone's life by
simply doing things that I love. My passion for serving others
combined with a love of science has inspired me to aim towards a
career in the medical field. With a career in this field, I will be
helping others and doing what I love for my whole life.