Name: Alexys Elysse Watkins
From: Saint John, Indiana
Grade: 11
School: Lake Central
Votes: 0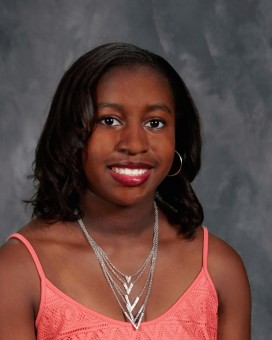 Preventing
Hunger
I
volunteer for Feed My Starving Children because I enjoy working with
my church's Youth Department to package food for children around
the world who are not as blessed to have food to eat everyday. I soon
began to volunteer at the Soup Kitchen at my grandfather's church
because he figured that since I was helping to end children's
hunger that I would enjoy preparing and serving food to other people
in need. I volunteer at the Soup Kitchen every Friday and Feed My
Starving Children once a year. My responsibilities at the Soup
Kitchen are to set up, and help prepare and serve the food and
drinks. At Feed My Starving Children, I am put into a certain station
of which particular food I am supposed to package in an assembly
line.
My
biggest challenge as a volunteer is wondering if I'm not doing
enough to help end world hunger. Though the numbers are dropping, I
feel that I need to be involved in more activities to help more
people, and know exactly how many people I am helping each time. What
has given me the most satisfaction as a volunteer is knowing that I
am doing something positive and helpful to others, and being involved
in my community.
What
I have learned from my volunteer position is how blessed I am to have
food, clothing, and shelter and that some kids do not have the
necessities that I do. It really is an amazing feeling to be able to
give back and help others in need. I believe that is why God gave me
the heart that I have, so I can help others any way I can.
My
interests are in alignment with my volunteer focus, but my career
goals may not be. I love to help people and know that I am making a
positive difference in someone's life. My career goals are leaning
towards more of what I'm good at instead of where my heart really
should be. My volunteer focus will definitely help me figure out what
I want career I want to pursue for the rest of my life. I see my
activities as forward looking because they are guiding the growth of
the environment. Forward looking means progression and positive
change and development. Change that I seek to foster in the world is
saving more children's lives; preventing them from dying at a young
age because of not having enough food to eat. If I were to come back
a few years from now, I believe that my volunteer activities would
have made a difference. That would mean that I have helped to make an
impact on more children to positively change the world.