Name: Kimberly Ann Vega
From: Brownsville, Texas
Grade: 10th
School: South Texas Academy for Medical Professions
Votes: 0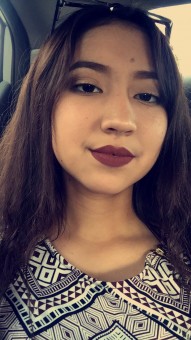 I began to volunteer at Alta Vista here in Brownsville, Texas so I
can see my neighbor, Mrs. Musquiz, who always had a big heart and
helped us with everything we needed even giving us fresh baked
cookies and cupcakes every Holiday event especially on our birthday.
Later on she was diagnosed with Alzheimer's disease and moved to
this facility which made me want to visit her and give her that same
loving comfort she had always given me. I remember staying there
every summer from 9th grade spending almost 5-8 hours
every day from Friday to Monday and sometimes even the whole week.
When I went to the nursing home the first couple of weeks she wasn't
there because she was getting a procedure done, but that didn't
stop me from wanting to give other residence something to smile about
and keep them occupied and not bored. My responsibilities were to
keep them active so that meant bringing up games to play, having
karaoke or decorating for the upcoming holiday. Sometime around the
day I would go see bed bound patients, the residents that were
dependent for everything and I would take a magazine or a book to
read to them, coloring books so they can use their imagination and
nail polish for the lady's that wanted their nails done. After a
few weeks, Mrs. Musquiz had came back but her condition had only
worsened so she no longer recognized me and it broke my heart but
that motivated me to come back and get to know her again. The most
challenging part of it all was getting attached to them and having to
see them taken to hospice, the place that they are taken to pass away
because they're condition have worsened but they die with dignity.
Although it's the hardest thing to see, you also get to see
patients that have progressed outstandingly enough that they are able
to go back home. This experience that I had gained volunteering at
the nursing home has taught me that it only takes someone compassion
and time for these people to live happy and get back on their feet to
live life to their fullest and not get brought down by age but
remember the people that love and support them. Volunteering here has
helped me choose my career by pursuing the medical field because I
want to feel the same way I felt everyday there at Alta Vista, joy in
helping other even with just a smile. I felt like everything I did
there was for a reason because not everyone in the world has the
capability of doing stuff that others are able to do due to a
disorder or age and I look forward to being there by their side like
I was with those residents. A world with big hearts can change the
world and possibly cure diseases that we thought impossible to cure
with love to our people, no matter if it's your neighbor. When I
come back in a couple of years I know that the activities I had done
in the summer will be remembered to all residents especially the bed
bound because I showed them love by reading to them when they weren't
able to speak, describing the weather so they can picture it when
they couldn't go out and see it themselves that's something I
believe someone would be grateful for.