Name: Alex Dominic Pachecano
From: Lawrenceville, Georgia
Grade: 11th
School: Peachtree Ridge High School
Votes: 0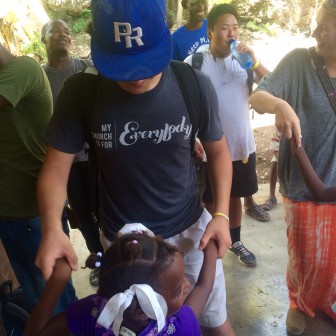 Youth
Forward Scholarship 2017
I volunteer at 12 Stone Church on the Youth Ministry nights. I chose
this place because I have a passion for the youth to be raised into
being leaders. I have volunteered at 12 Stone Church since the fall
of 2014 from 4 to 10 every Wednesday and Thursday. That adds up to 12
hours each week, 48 hours each month, and 576 hours each year because
we only have no service on 3 weeks out of the whole year. My
responsibilities are to set up for both ministry nights from the
signs and computers to the cones outside, be a part of a Student
Leadership Team that meets once every month to discuss what can
better our ministry, and lead a group of 8th grade guys that I have lead since they were in 6th
grade. My biggest challenge as a volunteer was when I had an
opportunity to give a sermon on both Ministry nights. The challenge
wasn't about speaking, but it was after I spoke because the biggest
temptation after preaching on stage was to have the mindset that I'm
better than any volunteer here. The most satisfaction as a volunteer
is to see how my 8th grade guys actually listen to what our pastor and I say to them and
put that knowledge into practice. It gives me satisfaction to know
not only am I helping the 8th grade guys turn into young men, but the 8th
grade guys are helping me as well. I have learned that every aspect
of volunteering, no matter where, does matter. Whether it's for the
homeless or for animals, it's not only helping their community
become stronger, but making the volunteer build character as well. My
interests and career goals are exactly in line with my volunteer
focus because I feel called to become a youth pastor. As I'm not
being selfish and putting my time and effort into the community as a
teenager when I have limited time, as an adult when I have a lot more
free time I'm going to be able to put more effort and gifts to the
table. Forward looking means to make decisions based on what is best
for you in the present, but always having a long term point of view
on your decisions as well. I'm seeking for more leaders,
revolutions, and guidance from younger people. The world is always
run by people depending on their age because they automatically have
"wisdom", but the youth have valuable perspectives and gifts to
bring as well. I don't think that my activities will have made a
difference, I know that it will make a difference because it is
already making a difference right now in the lives of my 8th
grade guys right now.