Name: Savannah Kelly
From: Hialeah, FL
Grade: 11th
School: Hialeah-Miami Lakes Sr. High School
Votes: 40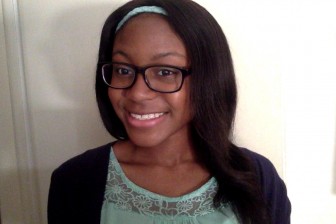 When
asked what I loved most about my community, my mind struggled to see
beyond the violence that paints the streets red. Though Miami Gardens
is nicknamed "The Gardens," I found no beauty in it: the flowers
were wilted and what remained had fallen to ruin. Growing up in my
community made me privy to the crime encapsulating it and hyper-aware
of the need for change. Despite politicians claiming they would
prioritize the safety of Miami Gardens every year, I still spend far
too many nights drifting asleep to the lullaby of Channel 7 News
reporting yet another child won't make it home.
As
I took notes, the sirens of squad cars and ambulances rushing to a
nearby school drowned out my teacher's lectures, epitomizing the
cracks within the city's education system. I witnessed first-hand how
poor performance in the classroom transformed into delinquency on the
streets. The students that often skipped class and succumbed to
peer-pressure sought the attention they lacked in toxic friends and
destructive gangs. Their futures ended before they could start.
Searching
for a silver lining, I only saw rusted dreams. I sought to change the
stigma surrounding my community. Hence, I created a peer-mentoring
group to provide students with ample support and guidance,
opportunities previously denied. By introducing my peers to the
merits of advanced classes and club participation, they cultivated a
sense of ambition and community. I realized that the barrier
inhibiting my fellow teens wasn't apathy but rather a lack of
positive influences at school and home. I became a liaison between my
peers and their schools, contacting nearby schools in search of
resources and involvement; however, my advances were greeted with
empty promises and unreturned phone calls.
After
my unfruitful endeavors, I searched for alternative means to my ends.
I discovered the Miami-Dade County Youth Commission, which utilizes
student leaders to identify and solve issues within their respective
school districts. Upon my year-long appointment to the commission, I
began to understand the gridlock I encountered in trying to establish
a relationship with neighboring schools. Bolstered with a fresh
perspective and re-directed energy, I delved into channels that would
allow me to better allocate resources and support to the students in
my community. Throughout my experience, I saw the effect that my
simple actions had on my peers and understood that I need to continue
my work to witness the change all children deserve.
A
friend of mine once said that college "wasn't worth the effort,"
but he later told me that my dedication to academics inspired him to
apply to a few universities. Through him and countless others, I
started seeing a different side of my community. I saw a city whose
citizens remained strong despite tragedies and would give anything
short of their lives to support their neighbors. I saw a side of
Miami Gardens that news stations never attempted to showcase and
progress I needed to expand upon. Beneath the underbrush of faded
flora laid sprouting saplings of promise.