Name: seqoya williams
From: Jacksonville, Florida
Grade: college sophmore
School: Florida State College at Jacksonville
Votes: 29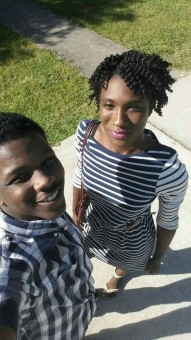 The Satisfaction of Volunteering!
I
have always wanted to help others – becoming a physician to help
people live a healthy life is the apex of giving back to my
community. My goal is to receive my Bachelor's Degree in Biomedical
Science and then enroll in the University of Florida School of
Medicine to become a physician. Helping others is a significant way
to help myself grow into a better person and simultaneously help my
community. After becoming a physician, I plan to continue working in
a volunteer capacity helping others benefit from my knowledge and
experience.
I
currently volunteer 4 hours a week (average 16 hours per month) in
the Radiology Department of UF Health North. I began this endeavor
January 13, 2017. I volunteer in this capacity to become familiar
with hospital procedures in my chosen field of endeavor. My primary
duty is escorting patients to the appropriate area for their various
tests and/or procedures. I have also volunteered with Feeding
Northeast Florida. They help local children & families, seniors,
and veterans who are struggling to put food on the table. I
volunteered in their distribution center sorting food according to
type, quantity and expiration dates. I have always heard about hungry
people but this endeavor opened my eyes to the fact that these
individuals are living in my community. Feeding Northeast Florida
works with local grocery stores, manufacturers, and farms to rescue
high-quality food that would normally be wasted and transform it into
meals for the needy.
While
volunteering at the UF Health North, I am learning to interact with
patients in a professional/comforting manner. When patients are
nervous regarding their scheduled procedures I help reassure them
with comforting comments (i.e. "these tests are really routine",
etc.) and a friendly smile while accompanying them to the test
location. Becoming a volunteer has enabled me to learn how to give
myself to others. I am learning to become more selfless as I assist
other volunteers and employees provide caring and considerate aid to
patients. However, my biggest challenge as a volunteer is learning to
show restraint (giving care without interfering) in dealing with the
medical / personal lives of others.

The
things I have learned as a student and volunteer are helping me
establish manageable goals. Looking forward (forward looking to the
future) I have set time-frames, determined the necessary steps to
achieving the goals, and I have begun working towards my goals.
Volunteering in a hospital setting is the first step of achieving my
ultimate goal of becoming a physician – I am acclimating myself to
work in a hospital environment.
Through
my volunteer efforts I hope to demonstrate to others the benefit of
helping others by giving their time. I hope when I reflect back on my
life that the people, organizations, and communities I have
volunteered with will have benefitted from my efforts as much as I
will have benefited by giving my time. My greatest satisfaction is
knowing that I am helping others.