Name: Selenica Nivon Bruce
From: Pelzer, SC
Grade: 11
School: Paige Academy
Votes: 0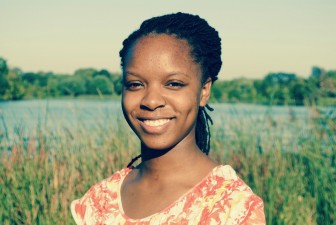 Selenica
Nivon Bruce Youth Forward Scholarship
Selflessness
The
most fulfilling thing for me to do is serve others. If a
doctor found the cure for cancer and could not share his discoveries,
his findings would be useless. The excitement would be in the cure,
not the discoverer. The most valuable part of a person is what he has
done and is doing for others. My goal is to do
good not look good.
A
volunteer is a servant. Twice a week I entered the nursing home where
I volunteered, and I prayed that I could be the most cheerful servant
in the building. I wanted to make the most of the two hours that I
had to give to others. A volunteer should and will expect no reward;
however, my heart was filled with joy. One day, a sweet resident
asked me if I was a nurse. When I told her that I was a volunteer,
she shook her head in unbelief, smiled, and said, "Thank you for
all that you do. I wish there were more young people doing what your
doing." I hope to still be serving others in this way many years
from now. We all have talents, but instead of keeping them to
ourselves we can use them to serve others. This is what I have
learned from my volunteering experience.
I
have been able to help in many different ways at my local nursing
home. Recently, the opportunity was presented to me to take the next
step and help treat patients in the nursing home. Along with an
employee, I was able to help patients with mental diseases like
dementia and Alzheimer's improve their cognitive skills and
hand-eye coordination. During one exercise, I helped my patient use a
slotted spoon to fish out small objects hidden in a bin of rice. Many
times my patient's hand would shake, preventing her from keeping
the object in the spoon. I became nervous at times because I had to
steady and guide the spoon for her, but seeing the delighted look on
her face whenever she discovered an object made the activity fun for
both of us. I love the medical field because of times like these. It
enables people to grow healthier, but more importantly to grow
together.
Helping
my mother through her last two births and volunteering have proven to
me that working in the medical field would be a wonderful way for me
to directly help people through life, good times and bad. The medical
field is the perfect place for me to use my academic talent to give
back to others. I've always envisioned my future self as a
passionate doctor invested in her patients, ready and willing to
sacrifice time, money, and comfortability for their recovery.
I
persevere in my studies because I know that whatever I learn now, I
can eventually give back. When I study diligently, I can contribute
to others something more than what I have already gained. This is
what I look forward to and what I know will last the longest. Mahatma
Gandhi said this: "The best way to find yourself is to lose
yourself in the service of others." How will I benefit my
community? … by committing myself to the service of others.