Name: Rebecca Holtcamp
From: Gurnee, Illinois
Grade: 10
School: Warren Township High School
Votes: 0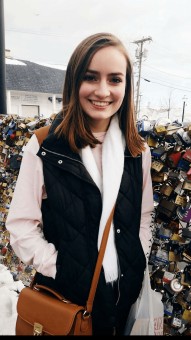 Senior
Citizens Matter Too

When
I tell my friends at school I´m going to a senior party, they never
suspect that I was talking about a senior citizen party. Strangely
enough, my kind of senior party is never dull. As I walk through the
doors of Sunrise Assisted Living, Carol always greets me with a
little scare; she´s usually waiting for her daughter the time I walk
in, and her laugh is so loud it gets me every time. She calls herself
a jokester, and so I just laugh along.
I
started volunteering at Sunrise my junior year of high school. I
visit there every Thursday for one hour with my best friend, Morgan,
accompanying me. Betty reminds us each time we go that we look like
twins, even though we show no physical resemblance. It´s probably
because she has a twin herself. During that one hour, we either play
games or chat with the residents. One of thier favorite games to play
is what they call, ¨Word in a Word¨. Even though Morgan and I come
up with most of the words, they still seem to enjoy it. And when they
don´t feel like playing games, we just sit and chat. I´ve really
gotten to know a lot about each person there, and they´ve gotten to
know a lot about me. That´s what gives me the most joy. I thought I
would never be able to bond with these seniors, but it has surprised
me how much we have in common. It´s shed light on a whole new
experience. I´ve never forgotten what Eleanor once said, ¨We bring
in the sunshine.¨ To Morgan and I, coming in once a week is not a
large commitment, but to them, it makes their day that much brighter.
Even though I don´t see myself becoming a caregiver, it has taught
me the value of building a relationship. For the knowledge of
learning how to communicate and build interpersonal skills is helpful
for any career.
Looking
forward, as I head off to college, I definitely want to keep
volunteering and serving the community. When I come home for winter
break, I plan on stopping by Sunrise Assisted Living to check in on
all my senior friends. To me, that is forward looking. Both the
people of Sunrise Assisted Living, and myself, have made long lasting
impacts on each other, and that is what will carry us into the
future. By sharing my story, I hope other kids will realize that the
old folk homes aren´t as boring as they seem. One day it´ll be them
sitting around in wheel chairs playing cards, and they´ll want a
cheerful, young person to walk right in. For right now, it matters to
me that people are living in the moment. I don´t know how much time
I have left with all my friends, but one thing I know for sure is
that what I am doing now is making every second count.