Name: Morgan E. Allison
From: Jenks, OK
Grade: junior (11th)
School: Jenks High School
Votes: 0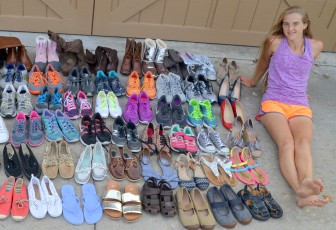 Servant
Leadership
By
Morgan Allison
Did
you know you can lead by serving? I have always had a servant's
heart. It is my gift. I never seek the spotlight.
Instead, I lead by serving. This is the concept of servant
leadership. My first project was for John 3:16 Mission in my
hometown. In 1st grade I decided to help the homeless by making
and selling bookmarks. After several weeks, I raised $200. When the
director heard of my project, he invited me to tour the Mission. I
remember seeing the dining hall and the bunks. I saw the faces of the
homeless and was glad that I could help. From that experience, I
knew that I could make a difference and I have been serving ever
since.
My
favorite charity, Project Elf, helps needy kids in Tulsa with basics
like clothing and supplies. My youth leader started Project Elf and I
have volunteered for her since age 9. I have always helped with
sorting donations and filling orders. But as a senior, I wanted to do
more so I asked the director what they needed. She told me their shoe
shelves were bare after the back-to-school rush, so I held a shoe
drive, collecting 80 pairs that will go directly to kids in need.
Now, many kids in my own city have good shoes to wear this
year, and that makes me very happy. I wish I could get new
shoes for everyone, but I am still so happy that at least some will
have what they need.
President Reagan famously said, "We can't help everyone, but
everyone can help someone." And this is exactly what I did.
In
May, I will receive the Distinguished Service Graduate designation
for recording over 200 hours of community service during high school.
While I will earn many other academic awards from my grades, I
am proudest of this award because it is for service. Many students
work hard to get good grades for themselves (and they should), but we
also need to spend time serving others. I am glad my high school
recognizes service.
I
will continue community service through college. In fact, service
played a role in my college decision. I will be attending a college
that requires community service to graduate. But my ultimate dream
is to start my own organization. I am a dog lover and want to
build a dog rescue for the unique purpose of training them for work
as service dogs. Animal shelters are filled with dogs looking for
homes, or better yet, a job to do. My dog rescue would work to
connect dogs to organizations where they would be trained to perform
a job.
After
college, I hope to start my dog rescue. Until then, I will continue
to serve in other ways. When I know that I have done something to
help someone, it gives me a great sense of accomplishment. It
makes me more satisfied than anything I could do to benefit myself.
I am servant leader.