Name: Brandon Cisneros
From: Perth Amboy, New Jersey
Grade: 11
School: Perth Amboy High School
Votes: 3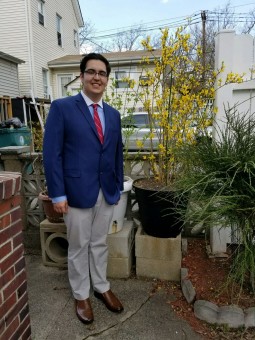 Brandon
Cisneros 5-1-17
Community
service has always been an important part of my life. I have been
giving back to my school and community since eighth grade. I have
attended various events at the schools and my church. I have
participated in activities such as cancer walks for awareness,
spending time with the elderly, feeding the homeless, helping educate
younger children, and collecting items to donate to children in
third-world countries. Collecting more than 400+ hours, I have gained
many friendships, learned new things, gained opportunities, and most
importantly gained humility and a passion for the things I do.
In
college, I hope to continue my work and help others in another
community or possibly even further abroad. As a volunteer, I like to
understand diversity, gain good citizenship, and gain leadership. My
service record has certainly been a big part of the leadership
positions I hold today. Being student council President, Helping
Hands President, student representative for the Board of Education,
and Youth Service Coordinator for the Richardson School PTO, I keep
very busy on a daily basis. I take all my responsibilities serious
and make sure I perform at the best of my ability to instill positive
change and take action.
In
college I hope to participate in Alternative Spring Break and
multiple student service organizations. I hope to be a part of these
amazing once in a lifetime experiences because I have never left the
country. Therefore, I would be honored and humbled to go to a
third-world country on a service mission and help people in need. It
warms my heart to make people smile even though they live in rough
situations. It's also a wonderful sight to see that many people
share my passion and desire to give back.
Balancing
academics, your social life, and giving back to the community can be
a lot to handle. However, once you do it and develop the passion for
it, you will not want to stop. It's an amazing feeling because it
feels very rewarding and it makes you realize that we take a lot of
things for granted. Millions of people around the world struggle
everyday to live and survive and when someone gives back, you give
them another chance. My mission to help will not stop, I will always
give back and help people in need as long as I possibly can. The
feeling of bringing joy and inspiration to children and people in
need continues to make me feel so humble.