Name: Cassidy Robbins
From: Jenkintown, Pennsylvania
Grade: 12th
School: Jenkintown High School
Votes: 0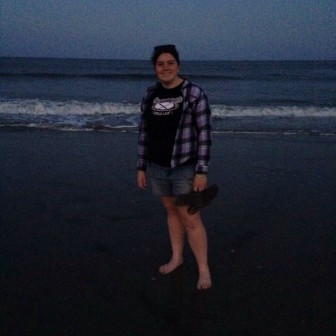 What
Service Means to Me
By
Cassidy Robbins
Do
you know that feeling you get when you make someone smile…..that
feeling when you make an improvement in another person's life or
become a role model for someone else? It is an emotion that has
driven me most of my life. Providing service to others and their
surroundings has its own rewards.
It
is imperative for the youth of today, particularly teenagers as a
bridge between children and adults to volunteer. Service remains a
vital part of society. It is critical for young adults to participate
in service to others, as a model to younger children as well as
supporting charities and organization that are beneficial to their
friends, family and future of their community and environment.
Participating
in events, demonstrating support through actions for others who may
not be able to help themselves and protecting the environment teaches
values and can enrich another's life, as well as your own. Whether
you are improving your local community by helping clean a church,
collecting for a food drive, building houses for the homeless,
planting trees for a local park or working for a national charity via
fundraising or raising awareness through participation, you learn
values such as understanding, compassion, generosity, kindness, etc.,
none of which cannot be taught in a classroom. Service to others
makes a positive impact on people's lives. Service continues to be
important, as it makes a difference in everyone's lives from the
people who are being helped to the volunteers who complete the
service.
Service
for me has been throughout my entire high school career starting out
with one expression I remembered from when I was younger, "It's
the little things in life that make life worth living because you
have no idea the impact of a small action it could be on someone's
life." I questioned the meaning behind it for many years
previously. What could I do that would make a difference? How do my
actions impact others? I did not realize the importance of my actions
until I saw what I could do, for not only someone else, but for
myself. My experiences have completely changed my approach in life
and I have continued giving where I can, as it has taught me
compassion, understanding, kindness, and selflessness.
The
summer before I entered high school, I volunteered at a Boy Scout
camp for 12 weeks. There was many long hours spent cleaning up the
reservation for the environment before the camp opened and when the
season was over. I was one of the few girls working at the camp. I
challenged myself to learn the requirements for the Boy Scout badges
so that I could teach the younger boys, everything from water sports
to environmental science. There were many times I had to console the
younger campers, as many had not been away from home before, but
knowing that moment when they realized they understood or could
demonstrate what I had taught them or recognized their wave of
homesickness had passed made me very happy and proud.
My
favorite moment in volunteering was when I returned to school in the
fall. I had just made it onto the varsity team as a lacrosse goalie
and my younger sister played for my old club, Abington Girls Lacrosse
Club. That year, my mom was a volunteer coach for her team, and I
offered my services, thinking she could use some help training the
goalies. Why not help when I could, to assist younger players develop
their skillsets?
On
one of the first evenings that I went to practice after my own, I met
a small, fearless girl that went by the name of "Cheese" (her
real name is Madeline, but she still goes by Cheese today). She had a
tiny physique, had little experience, but a bog heart. Her parents
told me she didn't really speak. I pondered the ways I could teach
her. How could I teach someone who doesn't speak? She wasn't like
the other girls I taught….but every word I uttered, she listened
to. She never questioned me.
After
working with Cheese for several weeks, I finally asked her why she
never replied to me. She responded with "You're helping me out.
Every day I work with you, I become better than the previous day,
which is why I don't question you." She made me realize that I
really love helping people, as it made me feel better as well. I
always hope I can make a difference and with Cheese, it was making
her a better goalie. I want to help people achieve their goals, and
in the end, if I could get one smile from them, it would have been
all worthwhile.
The
whole experience with Cheese taught me a lot about myself and what I
did for her. I thought I only taught her some drills to become a
better goalie, but she made me realize I made an impact on her life.
After that, I wanted to continue with community service, so I
continuing volunteering to help others whenever I can. If I have the
time, I will do it. My various activities continue to reward me. I am
so proud of the younger kids I have tutored that have improved their
grades and love when they share their test scores as they feel good
as well about their accomplishment.
During
high school, as part of the National Honor Society, I enjoy
participating in the annual Widener School holiday party, everything
from buying gifts for the children there, wrapping the gifts, setting
up the party and seeing the joy on their faces. I was part of the
organizing the first Relay for Life 5K at my high school, assist with
set up and signups for the annual Red Cross Blood Drive and volunteer
at a Breast Cancer Invitational baseball tournament participating in
the fund raising for the Susan G Komen 3 Day and Feel the Warmth 5K
for coat collection for needy families. As part of my World Language
Honor Society, we put together Backpacks for Haiti and I tutor
younger students in French, math and science to name a few of the
activities I participate in.
I
want to continue to make impacts in people's lives, even if it is
through the smallest tasks. The intrinsic rewards enrich my life and
I want to continue to provide service to other when I enter college.
It has been a big part of my young adult life and I have been able to
meet some wonderful people and the experiences with them have truly
been a reward. I am enthusiastic about future opportunities and look
forward to getting involved at Immaculata to discover where I can
make a difference. I have always been a volunteer and fully expect to
continue to be of service to others for the rest of my life.