Name: Amore' Evans
From: North Charleston, SC
Grade: Juinor
School: Palmetto Scholars Academy
Votes: 0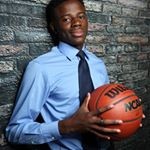 Service
over Self
Over
the course of High School I have put at least 700 hours of community
service and engaged in many community service projects that have
ultimately chosen my major. My dream job of being a paramedic is not
in tune with the areas that I have volunteered but it is in tune with
the reasoning behind why I volunteer. I have volunteered feeding the
homeless, playing basketball with a special needs team, creating
clothing bags for youth, collecting and distributing Christmas gifts
for youth who have lost a parent, and a local church as a musician
and camera operator. My responsibilities varied from having to put a
spoonful of food on a plate, to meticulously mapping out and keeping
track of what gifts went where.

Forward
looking to me means that you are doing things now that would
ultimately impact your or someone else's future. I see me
volunteering, as forward looking because one thing you do for someone
can have a forever lasting effect on their life and the people in
their lives. For me personally, knowing that I have positively
affected someone else's life for a second, minute, day, or lifetime
gives me the most satisfaction and drive to continue volunteering;
with that I will always take from volunteering that you have to power
to unconsciously give others permission to let their light shine when
you let your light shine.
Through
my volunteer activities I hope to see the world become a more
positive and caring place, where everyone is willing to help their
neighbor and community. I think that if I came back in a few years my
volunteer contributions would have made a difference in the lives of
the people who I have interacted with, because that is my motive
whenever I look for a volunteer opportunity. When I am looking at a
volunteer activity I ask myself "Who will the help/affect?", "How
will this affect them?" and "Is the affect long term or short
term?"