Name: Elise Danielle Duverger
From: oklahoma city, Oklahoma
Grade: 11
School: Oklahoma Christian University
Votes: 0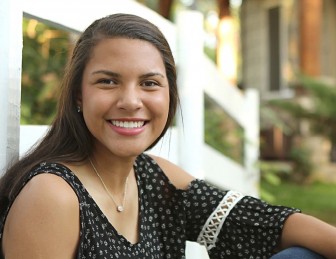 Service
above Self
To
me, service above self means sacrifice. It means being selfless and
caring even when you don't want to be. It also means being generous
with time and money. Through personal experience, I have come to know
what service above self truly means.
Every
Thursday evening since seventh grade, I have volunteered with Novo
Ministries. Novo is a faith-based organization that desires for
people to know Christ and seeks life change. We put on a Bible Club
for kids at an inner city apartment complex for an hour and a half.
The volunteers meet and set up a new apartment every week, then we go
to all the doors to invite kids to come. Some days it is miserably
hot, and some days it is bitterly cold. Once we meet back at
our apartment for the night, we have a small group, a large group,
and another small group. I have always been an assistant teacher, and
I help keep the kids focused. My small group has three to seven year
olds; and while they are a handful, they are so precious. I love to
see them absorbing what they learn. During large group all the
volunteers take turns doing a testimony over that day's specific
lesson. During our second small group, we ask the kids what they
learned from the story and pass out snacks. For these kids, Bible
Club may be the only time that they hear the gospel and the only time
that they get a little something extra to eat. At the end of Bible
Club, the volunteers split up again and take all the kids back to
their apartments. After this, we load up our supplies and clean the
apartment. To be completely honest, some days I really don't want
to go to Bible Club. By the time it's Thursday, I have had a long
week and am tired from my sports. Sometimes I would rather stay home;
however, when I make myself go, I am rewarded by sweet faces and am
glad that I went. I have built friendships with these kids over the
last six years. While it is not the same group of kids every week,
the children who are consistent remember my name and the things we
have taught them. Holding their hands and letting them sit in my lap
during large group makes my heart swell. Sometimes I need a reminder
of how much I enjoy being with them. Bible Club is a sacrifice of my
comfort, my time, and my energy; but it is necessary.
I
believe the work Novo Ministries is doing is extremely important. I
believe that going to Bible Club week after week and serving these
kids is worth it. It is worth it to miss out on spending extra time
with my friends. I believe that service above self means to put aside
comfort, time, and energy in order to serve and love others.