Name: Ashley Elizabeth Harris
From: Caldwell, ID
Grade: 11
School: Vallivue Highschool
Votes: 26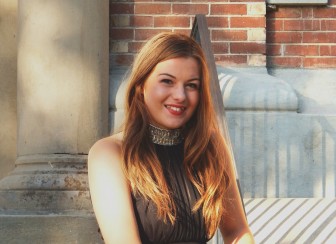 In
this overwhelmingly busy life, it is important to give of your time
and sacrifice for others. Without common people giving of
themselves, there would be no scholarships to be earned, no fun runs
to run, no memorials, no heroic sacrifices, no community
organizations, and no non profit organizations to help people in
need. The
greatest gift you can give is yourself. Outside of volunteering
because "it's the right thing to do," giving back to our
community benefits both the community and ourselves.
In
the book Five
People You Meet in Heaven
it says, "You
don't get it. Sacrifice is a part of life. It's supposed to be.
It's not something to regret. It's something to aspire to. "
(Albom, 93) Everyone lives their life to try to be the best that they
can be and gain the most for themselves but that isn't what life is
supposed to be all about. At the end, what matters is not how much
money you made, what matters is how much you gave away. Our legacies
aren't defined by what we accomplished in life but by how many
people we impacted. Therefore, volunteering and giving away our
money and time so countless others can be blessed is not something to
do grudgingly but it should be something to attain to and do more
than willingly.
Volunteering
and working in my school and community have significantly influenced
my journey. Outside of participating in the required volunteering
for Key Club and National Honor Society, I have volunteered at St.
Alphonsus as part of the Junior Volunteer program. This program
taught me valuable lessons of community involvement and commitment
that are essential for me to achieve my goals. From showing patients
where they needed to go, to stocking the ICU rooms, delivering mail,
and putting out a fire in the parking lot. All of these experiences
let me provide a unique contribution to my community at St.
Alphonsus.
I
hope I have made a positive influence in my community. Every summer,
I volunteer at Trinity Pines church camps and I spend a week as a
counselor for a group of ten to twelve fourth through sixth grade
girls. Together, we spend the week enjoying ourselves and each
other's company by rock climbing, tubing on the Payette river, but
also we spend a lot of time talking about serious matters like their
relationship with Christ. I hope I have made a positive influence in
the life of someone else, not just those girls but while lifeguarding
at the YMCA, at my school, on my track and cross country teams as a
leader, at my church, and in my relationships.
Looking
forward to me means preparing for accomplishing my goals. My
educational goals are to attend Northwest Nazarene University for the
next four years and get a Pre- Medical degree with a minor in
chemistry. After graduating from NNU in 2021, I plan on going to
Medical school through the Navy's Health Professions Scholarship
program and become an orthopedic surgeon. Using the experience gained
through the military and medical school, I hope to qualify as a
physician for NASA's astronaut corps. I also have a personal goal to
do medical humanitarian work with organizations such as Doctors
Without Borders.