Name: Chloe Anna Wong
From: Chandler, AZ
Grade: chloewong2323@gmail.com
School: chloewong2323@gmail.com
Votes: 0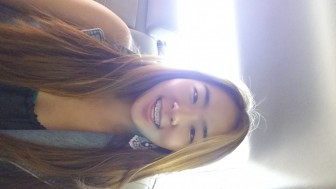 I
have felt this conviction to reach out to the homeless and elderly
community.
Our church partners with another church to do homeless outreach and
paint blitz every other month. Homeless outreach is when we make
burritos and collect donations to hand out to the homeless. I partake
in this event because it is heartbreaking to know how some people
don't even have places that they can call home. When I think about
this, I realize how blessed I am. I am lucky to have food, a roof
over my head, and a family who loves me. While they may not have
homes and hopes for their future, I want to share love and provide
them with hope.
Paint
blitz is when we paint the home of an elderly who isn't physically
or financially able to do it on their own. This event is dear to my
heart because my parents taught me to respect and honor the elderly.
My
grandma who has Alzheimer's lives with us. I
help take care of her by attending to her personal care
such as brushing her teeth and dressing her. I also give her food,
walk her, keep her company, and make sure she is safe. However, it
has not been easy to take care of her because of her mental state,
and I sometimes have very little patience with her.
I
am also treasurer of the Interact Club at school. I am in charge of
scheduling Feed My Starving Children sessions. I spearhead this event
because I believe that it is a fun way to make a difference in the
world with my friends. There are so many children who are starving in
the world which is something that I can't fully grasp. I take
simple things like having plenty of food for granted. By packaging
food, I am providing meals for children in third world countries who
don't have any.
Through
these experiences, I have gained the understanding of love and
compassion. It is the little things I do in life such as painting an
elderly's home that leave a big impact on my community. If I have a
serving and humble heart, I can truly make a difference in even one
person's life. Through volunteering, I have found that I aimed to
bless others but was in fact blessed myself. Volunteering makes all
the difference. It has helped mold me into a well rounded person and
helped me to grow important qualities such as passion, awareness, and
initiation.