Name: Stephanie Monarrez
From: Manteca , California
Grade: Junior
School: Sierra High School
Votes: 0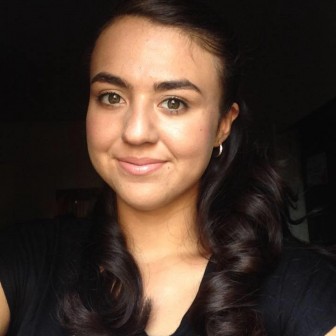 "Serving
Humanity"
The
smell of grease was everywhere. Actually, grease was everywhere: my
hands, my face, my blue Interact Shirt, my favorite pair of blue
jeans, and even my hair. I remember the way my friend Sam and I sang
"Grease in my pants! Grease in my pants!" as we made our way
toward the trash bin to get rid of the leftover turkey. I often find
myself thinking back to the first volunteer event I participated with
the Interact Club of Manteca. Who would have ever thought that a
turkey dinner would change my life for the better?

Manteca's
Mountain Mike's was offering a free turkey dinner to people who
lived alone, were homeless, or just couldn't afford to prepare a
traditional meal. I signed in with my advisor, Mrs. Liotard, at
9:30am and started setting up the dining hall, the beverages, and the
food. We were assigned specific tables and were to treat the visitors
as if they were eating at a five star restaurant. I remember how
thankful the people were, with smiles full of gratitude and faces
teeming with appreciation.
All
the volunteers were busy attending to their guests when Mrs. Liotard
asked for a volunteer. Although I was nervous, I decided to be brave
and volunteer. I was to wash the pungent smelling buckets where the
turkeys had been seasoning all night. Sam and I threw away the
leftover turkey grease and trash bags. By the end of the event, I had
mopped the entire restaurant and washed more dishes until they were
free of grease and turkey leftovers. By the time I got to go home I
was weary, starving, and irritable.
Some
people might think I'm crazy for choosing to spend my Thanksgiving
washing and cleaning other people's mess! Even so, I look back on
that day and feel like the luckiest girl in the world. Mrs. Liotard
has become a big part of my life since that day. She has taught me
about responsibilities, about the daily struggles people face, and
most importantly that you should always put "Service above self".