Name: Avery Barlow
From: Houston, TX
Grade: 11
School: Home Schooled
Votes: 0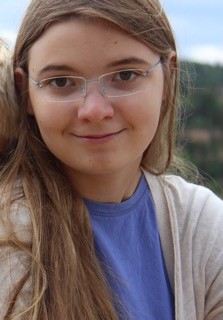 Since
Easter of 2011, I have been volunteering at a place called The
Clubhouse, where
kids come for two hours each Sunday to learn good character and how
to apply it. The
Clubhouse uses fun
videos and onstage drama to teach good morals in a way that children
enjoy, understand, and remember.
My
involvement with The
Clubhouse began
when my family lived overseas and I served as a worship leader. We
noticed that on Sundays, the kids had no way to learn, understand, or
apply moral truths, not to mention how bored they were while the
pastor preached! Recognizing the need, we began The
Clubhouse for kids,
which made them eager to come each Sunday. When the pastor would
dismiss the children to "a better place," as he put it, the kids
would race down the aisle toward The
Clubhouse,
exclaiming, "YES!"
In
2014, we moved back to the states and began volunteering at our local
Clubhouse as a
co-teacher, which enables me to teach the kids good character through
onstage drama. One of the biggest challenges for me in volunteering
has been giving up
time and energy to work with no tangible gain. However, I get to see
and help kids' behaviors change for the better. One 5-year-old girl
had previously refused to share her snacks with her little brother
while on their daily commute. After a Clubhouse
lesson on the importance of loving others, she shared her food with
her little brother for the first time ever. Her mother was so
surprised that she nearly wrecked the car! The
Clubhouse has also
impacted underprivileged children, kids from refugee families, and
children coming from broken homes. Three brothers from a broken and
underprivileged home went from being withdrawn and disobedient to
engaged and well behaved. They showed their seriousness about The
Clubhouse by
dressing neatly and by paying close attention to what was going on
onstage or on the video screens. Their involvement in The
Clubhouse has also
changed their behavior at home, which has persuaded their mother to
come to church, too! Stories like these have made volunteering at The
Clubhouse incredibly
worthwhile.
My
ongoing service has taught me the importance of leading by example
and reminded me how much kids value adult attention. I have also
learned that anyone can have an impact on a child's life; you just
have to be willing to put aside your pride and get down onto the
kids' level. Most of all, The
Clubhouse has
helped me become a loving servant-leader to children. Today, when I
look towards the future, I see my volunteer work as training the next
generation. The children I am serving will one day be men and women
with good, strong character. Employees with good character will
inevitably foster good character in businesses, schools, and
governments. Though my career goals may not align with my service at
The Clubhouse, I
can still volunteer to change the world's future, one kid at a
time.