Name: Madison Hughes
From: Fredericksburg, Virginia
Grade: Junior
School: Massaponax High School
Votes: 5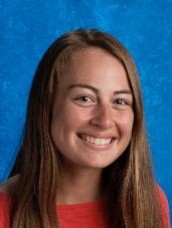 In
Mark 10:45, Jesus himself says, "For even the Son of Man did not
come to be served, but to serve, and give his life as a ransom for
many." I have tried to do just that by serving my community through
Young Life, Spotsylvania Volunteer Rescue Squad, and Lifepoint
Church.
For
the month of August in 2016, I was a server on work crew at
Rockbridge Alum Springs Young Life Camp. During that time, I served
disabled young men and women, teen mothers and their children, and
high schoolers with forty-one other volunteers. Each of us decided to
give up a month of our summer to serve because Young Life somehow
impacted our lives. Every meal we served and every interaction we had
with campers intended to reflect the love their Savior has for them.
During those twenty-five days, over one thousand kids stood up at the
end of the best week of their lives and announced they had accepted
Jesus into their hearts.
This
past November, I began volunteering at my local Fire & Rescue
station. At least one-night week, I ride along to help assist trained
EMS providers transport and care for individuals in our community. It
is extremely rewarding to help individuals of all ages whenever they
are in need. Just recently, I became a member of SVRS, where I will
continue to volunteer regularly as an intern and pursue at EMT
certification before attending school in the fall. Once I am
certified, I will work at least two shifts a month to keep an active
membership while I am in college.
For
the past year, I have served as a greeter at Lifepoint Church every
other weekend. In my opinion, being a greeter is one of the most
important jobs you can participate in at a church since you are the
first person someone sees or interacts with as we gather to worship.
I'm always sure to shake every person's hand and greet them with
a good morning before they are seated for service. That one nice
gesture could be the only offer of kindness they have received all
week as we aim to soften someone's heart to receive the message our
pastor has prepared to deliver to them. Throughout this past year,
thousands have decided to begin a relationship with God. I find it
rewarding to know that my one hug or compliment may have had a
positive impact in their life changing decision.
Due
to these three impacting experiences, I will pursue a Bachelor of
Science in Nursing as a cadet of Task Force Blue Ridge Army ROTC at
the world's largest Christian university – Liberty University.

These activities could be seen as
"forward looking" because they change the future for the lives of
many. When one stands up in front of others dedicating their life to
Christ, that one moment changes the trajectory of their life because
they are no longer broken and lost, but made new by the blood of
Jesus. Looking back twenty years from now, I will still be amazed
that my small part in a big operation changed the direction of
thousands of lives forever.