Name: Samuel Phillips
From: Charleston, South Carolina
Grade: College Freshman
School: The Citadel , Military College of South Carolina
Votes: 0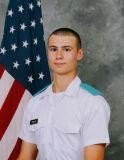 Samuel J. Phillips
25 February 2017
Serving Our Military
Over the years I have spent my time volunteering to help with our military service members. Our Soldiers, Marines, Sailors and Airmen have done so much for us, we ought to give them a hand and thank them for all they do for us. Over
the years I have participated in many activities but my favorites have been wreath laying and My Eagle Scout project.
I grew up living around military bases because my father is an officer in the army. As a family every Christmas we would lay wreathes at the military cemeteries. When we lived in Virginia we would go to Arlington National cemetery which was a great honor. Many of our nation's warriors have laid down their lives for us. I laid down wreaths to thank them for this, as I appreciate what they have done for me. I learned it is important to care for those who care for us.
In 2015 I had the great opportunity to begin a project where I would lead a team to rejuvenate a rose garden for The Fisher House in San Antonio, Tx. The Fisher House is a nonprofit organization that houses military service members and their families while they receive medical care. I had never led such a project before it took a lot of hard work and planning.
The project consisted of removing all the weeds in the garden that had been over grown. Several new rose bushes were added as well as a new blue agave for a center piece that is native to the area. New mulch was brought in to refresh the area.
Bird houses were added to attract some wild life for the visitors to enjoy, while they sat on the two new benches we
had placed there. The garden had a fountain which we had replaced the water pump on so it would work beautifully once again. We also took the time to level out all the bricks that had become unsettled over the years. The garden was beautiful when we were finished with the project.
I am glad I was able to make a place for the families to relax during a stressful time in their lives. I have a soft spot in my heart for my fellow warriors as I, myself, am in the Army Reserve now. Caring for those who have chosen to give their lives for us is of utmost importance to me. I hope to continue my service as a soldier and to my fellow soldiers as a leader.