Name: Alexa Pinajian
From: Coral Springs, Florida
Grade: 11th
School: Coral Springs High School
Votes: 0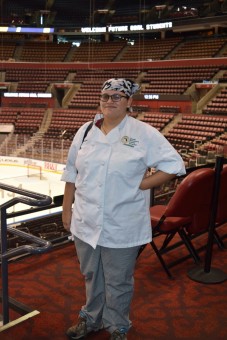 When
I decided to start volunteering for my community, I didn't limit
myself to one type of volunteer area; I chose Hands on Broward so I
would be able to work on many varying types of projects to help those
in need. With Hands on Broward, I was able to work about 54 hours a
year, with a variety of different responsibilities for a variety of
different projects. These projects included spending quality time
with senior citizens at the senior center and doing landscaping for
various places, with responsibilities such as taking charge of the
organization and distributing jobs amongst the others.
The
most satisfying experience that I have had from volunteering was with
the senior citizens and giving them companionship by spending the
whole day with them, playing games like bingo and dominos along with
having lunch with them. One challenge that I had to overcome was
managing the excitement and intensity of young children. When I
worked with a group of about 35 children to encourage youth literacy,
their overexcitement with the program made it difficult to stay
focused and on topic. However, I managed to keep the noise levels
under control. From volunteering, I've learned how to be more
outgoing then my past self. I used to be stuck in my own little shell
never wanting to talk or make friends with anyone. Now, after
volunteering I can speak to groups of people, and be more assertive
in society. Volunteering gave me an opportunity to get over myself
consciousness by starting to talk to people and connect with them
forming new found lasting friendships.
My
future career goals, as a bakery owner, connect to all my volunteer
work by helping me develop valuable leadership skills, to
successfully conduct my business. With all the projects that I have
done I have been shaping the community to be a friendlier place for
the future. I would hope in the future I would come back to see that
the work I have done has made the community friendlier place and get
the new generation to follow in our footsteps to make the world a
better place.