Name: Victoria Arrayales
From: Yuma, Arizona
Grade: 11
School: Cibola High School
Votes: 0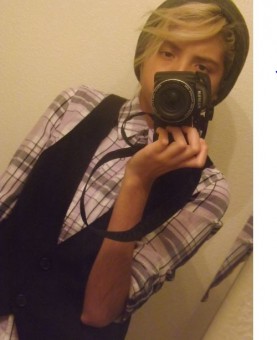 This
year, I have been fortunate to have the opportunity to volunteer at
my local Yuma County library. This type of work attracted me as I was
always known as a "bookworm". As a volunteer, I organize
shelves for the teen room and Spanish section. I help set up for and
clean up after events. I assist in removing books we no longer
utilize. Even when there isn't much to do, I still ensure our teen
room is clean. Despite school was weighing me down with work, I have
continued to dedicate two hours a week to the library since August.
Despite
working in a quiet environment, I face the challenge of being open
with the people I work with. I know part of my job, even if not
stated directly, is to make our patrons feel welcome. Figuring out
how to do just that has been a challenge. Little by little, however,
I am finding it easier to respond to the people I work for. The best
part of my job is the fact that I make someone's life a little
easier. The supervisors of the teen room are swamped with the task of
watching over our teen patrons in addition to any maintenance or
organizational work that comes with working at a library. For me, it
is very fulfilling to know I am allowing them to finish their job on
time without hassles. Throughout my time volunteering, I learned one
important lesson- we are all human and we must all be conscious of
each other's existence. Recently in the news, the concept of a "safe
space" has been attacked for coddling students and restricting
the freedom of speech. In our teen room, we openly state our place is
a safe space. There are certain words and topics that are not
permitted. This is not because we "baby" the teen patrons,
but because our supervisors are conscious that not everyone has an
easy life at home or school. It warms my heart whenever the
supervisor tells a teen they are available to talk if needed. Despite
the fact the world believes tough love is best, the library has
taught me plain love is better.
As
a future lawyer, I have to be open with my clientele. The library has
been an amazing place to learn about how I may be able to provide
resources to others. I am hoping in the future I am able to volunteer
with the ACLU. The ACLU has done great things for people who struggle
to have a voice whether they are a person of color, are transgender,
or are fighting for their reproductive rights. I one day hope I can
help people who are unable to have a voice within our broken justice
system. Volunteering means I am able to learn how to give someone
that voice and it will help pave the way for my career as a public
defender or civil liberties lawyer.