Name: Keegan Coppola
From: Calabasas, CA
Grade: hs senior
School: Chaminade College Preparatory
Votes: 0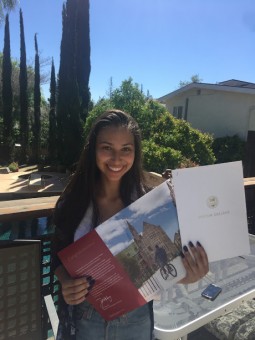 In
my junior year, I read a news article about a Muslim man in Queens
beaten callously for his faith. When I mentioned it in a Catholic
morality class, my teacher and I agreed to start a service project on
his behalf. First, I wrote him a letter. Then, she wrote him a
letter. Then, hundreds more.
I
got permission from the principal's council to create a schoolwide
project, making trips around campus to tell his story and invite
students to write with us. By the time Mr. Khan returned from the
hospital, we had delivered over 100 letters. They kept coming as he
recovered at home, until his house was filled with love and
well-wishes.
I
stood up for a man who couldn't defend himself and, though I didn't
undo the wrongs performed against him, I did make a difference.
Evangelism doesn't end with service. It's a way of seeing the
world, and I always want to look our home through the lens of love
and justice.
That
project taught me how fantastic it feels to volunteer, and I was
blown away by the sheer power of knowing that I had joined together
so many of my peers to help someone who needed it. Although my
project was over, I didn't want that newfound excitement to fade
away. I remained involved with other community service organizations,
like the Guadalupe Center and spent 3 hours a week tutoring low
income elementary school students and getting to spend time with some
of the sweetest kids I've ever met. For as much as I loved the
families I met and served, however, this project wasn't as powerful
for me. Taking the lead of my own community service initiative was a
new adventure for me, and I found myself missing it every day.
My
senior year in high school, a beloved Brother passed away, and in a
mass to celebrate his life one day, I remembered a project he had
started decades ago. I became worried that this mission would die
with him, and I reached out to every school official I could find in
the days that followed. Things started small.
First,
I arranged to continue his work on Skid Row delivering sandwiches and
handwritten notes to the homeless. Because he was serving so many
families and young children, these letters of encouragement were
beautiful reminders that someone was thinking and cared for them. I
reached out to all of my fellow Chaminade students, making
announcements in all of my classes and at assemblies to invite them
to join me in writing notes to the homeless and stay after school one
day to make sandwiches. By the end of the year, I was able to feed
almost 1,000 hungry people.