Name: Jaren Terrell Ross
From: Lanett, AL
Grade: 10
School: Lanett High School
Votes: 0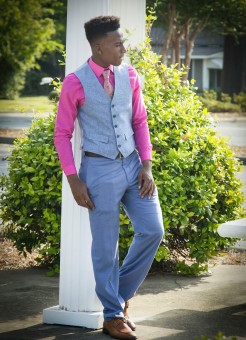 Youth
Forward Scholarship Essay
I am currently enrolled in a youth volunteer program called Delta
E.M.B.O.D.I. and G.E.M.S. This collection of youth is located in LaGrange, GA and is sponsored
by the LaGrange Alumnae Chapter of the luxurious sorority Delta Sigma
Theta. We are viewed as positive role models for other youth in the
community and leaders for our future America. I chose to join the
group because this experience allows me to inspire my local
environment to reach a maximum level of happiness in their life.
Also, being a volunteer boosts my confidence that I could change my
country one day, but first I must start small then build to bigger
and better things.
The Delta E.M.B.O.D.I. and G.E.M.S. complete
volunteer service 2 days a month, ranging from 2-5 hours each
meeting. The organization holds these volunteer meeting from the
months of September through June. My biggest challenge during the
volunteer process is time management because of the amount of times
the group performs service in the community and my extra-curricular
activities in school. I participate in basketball and football at my
school, and some of the games and camps occur on Saturdays, the same
day the E.M.B.O.D.I. and G.E.M.S. meet. Luckily, I am able to find
ways to balance both activities.
I have possessed many responsibilities in my volunteer group. For a
Thanksgiving food drive, my task was to collect at least $50 amount
of canned foods for homeless families in a community. I was able to
reach that goal, collecting 33 cans of food for an amount of $72.
Another responsibility of my service was to read to the kids at the
daycares in the local LaGrange area. The specific result of the
group's volunteerism is seeing the smile on others' faces. It
brings me the satisfaction of knowing that I am positively affecting
a society by my work.
As a member of the Delta E.M.B.O.D.I. and G.E.M.S.,
this volunteer service revised my personality. I am more open to
helping those in need rather than waiting for someone else to do the
job. I have learned that it takes passion, commitment, and resilience
to finish a job. Also, I learned that helping others can affect you
greater than the person you are assisting. The joy of making somebody
else smile ignites a flame within you that makes you pursue habits of
being a volunteer.
Through my activities of volunteering, I think it will allure other children
in the community to become volunteers. The impact I intend to promote
is humans are willing to help each other in the moments of despair. I
think volunteering actions of theDelta E.M.B.O.D.I. and G.E.M.S.
and I will affect the LaGrange community positively for future years.
A numerous amount of teens in years to come will join the
organization and continue to raise the standards previously held by
former members of Delta E.M.B.O.D.I. and G.E.M.S.