Name: Lane Elder
From: Tucker, GA
Grade: Junior
School: Homeschooled
Votes: 0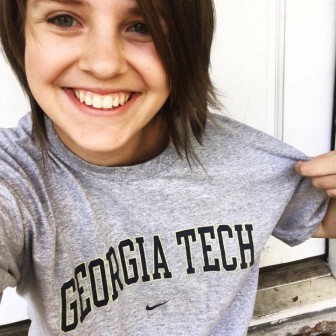 In September 2015, one image, the refugee boy washed up on the shore
of Greece, drew the world's attention to the effects of war in
Syria. Two months later, the attacks of gunmen and suicide bombers
in Paris outraged the rest of the world and started a new wave of
fear of the Middle East. The overwhelming public opinion on Syrian
refugees went from inclusiveness to "keep them away from America at
all costs", and up until a few weeks ago, I thought was only an
observer.
Clarkston, Georgia, just minutes from my house, has been called the
most ethnically diverse square mile in America and is home for
thousands of refugees who have fled their homeland because of
persecution. I serve this community by tutoring elementary
school-age children. Some of the children I work with have been in
the United States for only a few months, and struggle to keep up with
their classes because they are just learning English. I not only help
the children complete homework assignments – often reading the
instructions at the top of the page presents the largest challenge –
but lead them in activities to develop reading comprehension and math
skills.
Actually, I've been volunteering for two hours weekly ever since
fifth grade. Added up total, it comes out to over 300 hours in high
school alone. Why do I donate my time every week during a season of
life that is already stressful enough? First of all, seeing kids
improve throughout the school year is so encouraging. I treasure this
opportunity to show compassion to children who have been through the
unimaginable to get to America. It's something that's easy to
say, but hard to remember week in and week out when the kids talk
back to you, or forget every math fact you've helped them study
over the past month!
Recently, a Syrian family came to the tutoring center for the first
time. A mother walked in in traditional headdresses, leading three
children and carrying a baby. The kids names are Cedra, Aya, and
Ziad, and as I went to go look at their social studies assignment, I
quickly discovered that they spoke no English at all! So of course,
we started going over the ABC's. The whole time, I marveled at
what this family probably experienced to get here. The news preaches
on the turmoil of ISIS in Syria, and here were refugees who had lost
their homes and fled here. Now they simply needed help adjusting and
learning how to do homework.
I will be attending Georgia Tech this fall. One of the benefits of
attending a school in downtown Atlanta is that the location is merely
miles away from the Clarkston community. I may not be able to make a
tangible difference in the political turmoil in the Middle East.
However, I plan on continuing to go to Clarkston, reaching out, and
helping Cedra, Ziad, and Aya with their homework.