Name: Lindsey Sharp
From: Gravette, AR
Grade: senior
School: Gravette High School
Votes: 0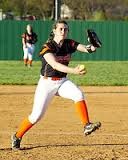 I
have volunteered in multiple areas over the last few years, from
feeding the elderly in a senior living complex to helping with a flu
clinic with HOSA. The one that means the most to me, however,
and the one one which I would like to focus is re-roofing houses for
low income families in Memphis, Tennessee through the United
Methodist Church.
I
chose to do this activity as part of a youth mission trip through the
Highlands United Methodist Church in Bella Vista, Arkansas. When
the youth leader presented the idea of going with the Service Over
Self (SOS) group to help these families, it spoke to me.
For
two summers, we would work for forty hours during one week of the
summer. During my time there, I got to get on the roof and
shingle the house. We were in Memphis during the summer, so one
of the biggest problems I faced was that I overheated on a regular
basis on the roof. It was pretty scary when I was on the roof
and I would get dizzy. Luckily, there were some people that
would sooner or later bring water around.
It
was really rewarding to see the families we worked with. We put
the roof on a house for an elderly woman who loved to tell us stories
when we would take breaks. She would sit with us and tell us
about her children and her past, often while trying to get us a glass
of water. Another family consisted of a mother and her small
children. It was wonderful playing with the kids when we were
on break. The family was also very grateful to have a roof that
didn't leak as well.
A
few things I figured out from these experiences was that working of
roofs in the summer is hard work, obviously, but I also learned that
if you really put yourself out there, you can connect with people
from all walks of life. In the end, if you treat people well
and let people know you care, people will respond in a positive way.
I
see my focus in volunteering as helping people in ways that they
can't help themselves. Whether that is roofing their house or
helping the elderly in a senior housing facility, the focus is the
same. If I build relationships on the way, that is a bonus. As
far as being forward looking, one could say that if you help people
on a regular basis, with basic needs, you are improving their life.
If some of the children whose roof we fixed found a way to do
something for others when they grew a little older, then we are
setting a chain of events in action that could lead anywhere. My
hope is that in starting this chain, even in the long term, there are
more people who have experienced kindness from a stranger and are
more willing to provide that same kindness to the strangers they
meet.