Name: Bettie Abigail Grimes
From: Waycross, Georgia
Grade: 10th
School: Ware County High School
Votes: 108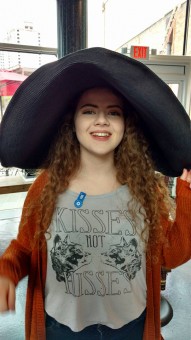 The
Spirit of Volunteerism
My mom taught me a volunteerism of the truest sort. I never chose to volunteer, my
mother just instilled in me that when I saw a need that I could
fulfill, I had to fulfill it. If you don't believe in selflessness,
you don't know how many times my mother, amidst worrying about our
money would turn her car around to ask homeless men what they wanted
to eat. She never drove past a person in need and never got them
anything less than what they asked for. I don't have regular hours
to volunteer–I don't have the chance in my small town–it was just
always clear through my mother's behavior: when someone is hungry,
you feed them. I didn't have a specific job to do, but my mom would
tell me, "You need to smile and talk with them. They need people
who are kind to them."
When I was younger, I could hardly talk to a clerk without getting nervous, so when my mother
passed me a Coke to hand to a man with face tattoos, I was terrified.
This was my biggest challenge, despite knowing my mother never put me
in a dangerous situation. They were strangers and while I wanted them
to be fed, I still felt uneasy engaging with them. I had to unlearn
what society perpetuated: people who were homeless were homeless due
to laziness; they only wanted drugs; they could easily get a job and
improve their situation. I've met desperate people–men who have been
in sweltering train cars for 24 hours–who hesitate to ask for
anything more than a drink. Mom asks "What do you really want?
You can choose." She is always honest and doesn't pretend they
aren't in a negative situation. By watching her talk to the homeless
with such compassion, I feel the satisfaction of helping someone in a
genuine way.
Recently, I was in Philadelphia with my mom, where we walked along a line of homeless
people. I fell back into that old fear: what if someone tried to hurt
me? Suddenly my mother was talking to a woman in a wheelchair, her
hand on her shoulder. "Are you hanging in there?" she
asked. I was ashamed of how I had been thinking seconds earlier.
These were people my mother would sit and talk with all day. I knew I
had to be like that.
"You know," my mom said to me later that day, "if you go to college here, you'll be
feeding them." Suddenly I saw the ways my little impacts could
turn into real ones, how one kind word and one sandwich could turn
into more compassion and more meals. Forward-looking, to me, means to
look for a better future. In the future, I want to see no one hungry,
because, in America, no one should be. I want people to know someone
in their community will feed them and talk to them–that someone will
treat them with respect and kindness.