Name: Cameron David Boon
From: Crestwood, Kentucky
Grade: 12 (2016-17)
School: South Oldham High School
Votes: 33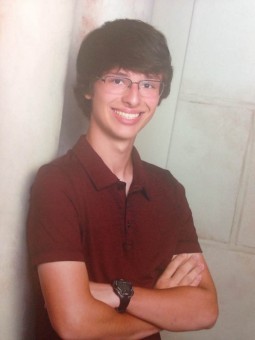 Spreading the
Spirit of Patriotism in Oldham County
When thinking about
what's shaped me as a person throughout high school, only one thing
distinctly sticks out. I am a member of The Boy Scouts of America and
I quite enjoy participating in high adventure camps where members are
encouraged to push themselves to their limits with experiences they
would not otherwise do. However, these things are quite expensive,
and I needed a way to pay for them. Therefore, I began a program
called Flags
Over Oldham
in my neighborhood. For an annual subscription fee of $30 per year,
we install a permanent in-ground mounting sleeve and post a 3' x 5'
American Flag mounted to a 10 foot pole in each subscriber's yard
for six national holidays. I say "we" because my family helps
out. This program has taught me many valuable lessons, including
business management, teamwork, commitment and the importance of good
customer relations.
The program kicked
off during the summer of 2011, and I've been doing it ever since.
With nearly 70 subscriptions annually, it means a lot of money that
we have to account for. We've created spreadsheets and file
everyone away so we don't forget them. We value meeting our
deadlines with each approaching holiday. We consistently put out the
flags on time, putting them out two days before each holiday and
picking them up two days after.
One of the many
things I've learned is that if your product is good, then it will
advertise itself. When I started out, not a lot of people wanted a
subscription, but it only took one. After the first holiday, everyone
wanted to fly a flag in their yard. The beauty of Old Glory is
irresistible when an entire street is decorated with her on
Independence Day!
We started out
small, it was just me and my dad hauling the flags using a riding
mower and an old cart. As time went on, the program has blossomed
into so much more. My Dad and I manage the annual subscription
renewals and payments, while the installation team includes me, my
mom, stepdad and grandparents. Everyone has their own role. My
grandmother drives the truck loaded up with flags, while my mom,
using our handy spreadsheet, directs us men to which residents need a
flag in their yard. We work in unison to get the job done efficiently
and correctly. We help each other out and divide the work equally.
Together we are an unstoppable team.
The most important
skill to have when trying to sell somebody something is that of
customer relations. A good salesperson needs to be able to read the
customer. It's easy to sell things to your neighbors and people
you know. A year into Flags
Over Oldham,
we moved to a nearby neighborhood, but still committed to continue
the program in my old neighborhood. However, once I moved, I really
made an effort to make sure I related to the customers and persuaded
them to see that this was a program worth supporting. Since I moved,
sales have increased by 200%. Even though I don't live in the
neighborhood anymore, I'm still recognized by many as a familiar
face in the neighborhood doing something valuable for the community,
and people respect that and want to be a part of it.
Flags Over
Oldham
is an important part of my life that has helped to shape me into who
I am today. The program has opened doors to many experiences that
will be regarded as some of the best in my life. I've gotten to
know many people, worked together as a family and have enjoyed
traveling to places like Philmont National Scout Ranch in New Mexico
and Sea Base in the Florida Keys. And, next summer, I plan to attend
the Boy Scout Jamboree in West Virginia. I really can't ask for
much more!