Name: Saajan Patel
From: Watkinsville , Georgia
Grade: College Freshman
School: University of Georgia
Votes: 0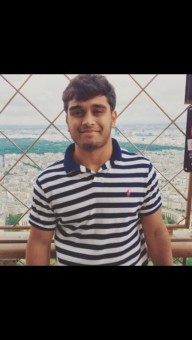 In high school, I
was involved in the National Honor society and Beta club. I joined
these two clubs because they provide opportunities for me to find
places to volunteer and help our community. You are required to have
a certain number of hours to be able to be active in the clubs. What
started out as just trying to get hours on paper, quickly turned in
to me really enjoying what I was doing for the community. I also
played football and basketball for my high school and got to
volunteer in many different places for that as well. We would read to
elementary school kids twice a week as well as volunteer to open car
doors on Friday game days. My favorite part were the camps we held
for kids ages 5-12 during the summer. We just went through football
plays and played around with the kids at our school. We also got to
volunteer at the Kids Expo held in the Classic Center in downtown
Athens.
The
place I chose to volunteer for national honor society and Beta club
was Sparrows Nest located in Athens, Georgia. This is where homeless
people or people struggling to put food on the table can come and
have a warm meal to keep them going through the day. My
responsibilities at Sparrows Nest was to get there around 7:30 A.M.
on Saturday mornings and start to arrange the food. I would either
help set the tables, put the silverware together, carry in all the
food from the trucks, and sometimes cut fruit and put it in platters.
The people would start to come I around 7:45A.M. because we start to
serve food at 8. Then I would sit there for about one hour and serve
food to people. We would usually have a speaker come in to talk to
the people about what they could do to better their lives. After the
speaker preaches, the volunteers start to talk to the people about
all that's going on in their lives. That was the biggest challenge
for me because it was hard for me to listen to some of their life
stories. But I was also satisfied knowing that I am in a way helping
that person who wasn't as blessed as I was growing up. I think that
volunteering at Sparrows nest has made me a better person and made me
look at life in a different perspective.
I
am from the Athens area and I attend UGA. I am currently enrolled in
the business school here. My dad owns multiple businesses in Athens
which I want to eventually take over one day. My plan is to take the
businesses over and somehow incporporate them into helping the ones
in need in the Athens area. I think I would be able to accomplish my
goal in the next 5-10 years.