Name: Stephanie Guerra
From: Gurabo, Puerto Rico
Grade: High School Senior
School: University of Puerto Rico at Humacao
Votes: 8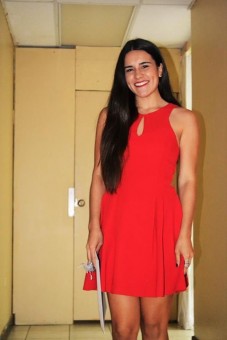 Summer and Winter Days

Growing up in a Caribbean
island, my summers usually consisted of beach days and BBQ nights. As
I grew up, I began to make the most of my free time and volunteer
during beach cleanups and other environment related community
service. I knew at an early age that I wanted to work in a field that
promoted the wellbeing of natural resources. However, the summer of
my sophomore year in high school, I decided to volunteer at a local
children's hospital. While volunteering at the hospital was not
exactly a part of my future occupation, I am gracious that the
experience gave me a whole new perspective on life.
As a volunteer during the summer
and winter for approximately three years, I reached a total of 135
hours. During the summer, my main responsibility consisted of
organizing activities that provides emotional support towards the
patients and their loved ones during their visits in the hospital.
Whether it is organizing arts and crafts tables or playing board
games in the afternoon, I made sure each child is able to maintain
positive energy during a difficult chapter in their lives. On the
other hand, the holidays were much more fast pace. The hospital would
completely transform. Weekly visitors, such as tinker bell and Santa
impersonators, would roam around the halls putting smiles on
children's faces. In this time, the volunteers became "Santa's
helper". We would be in charge of distributing the gifts that were
donated to the hospital and make sure it was adequate for the child's
age and preference. Each holiday season concluded with a huge parade
were families were entertained by traditional dances, various
characters, and music. As a volunteer during the parade, I would
assist the children during the parade and help escort them in and out
of their rooms.
During my time at the children's
hospital, I witnessed the personal emotions each family dealt with.
The day by day struggles are usually omitted in films and social
media, however it is very relevant. I often felt powerless when I
tried to help the children and their families. However, I tried my
hardest to use those emotions as motivation and try my best to ensure
the wellbeing of each patient.
All
in all, becoming a volunteer at the hospital is one of the most
fulfilling jobs I have ever taken. I was able to experience the
hospital from an insider's perspective. On the other hand, I
experienced the positive energy the children displayed. Observing
these kids enjoy life during such a difficult time gave me wisdom and
taught me to make the best out of every situation. In life, there are
many situations we cannot control; however, we can control the way we
express ourselves towards them.