Name: Emily Hiebner
From: Bradenton, FL
Grade: 11th Grade
School: Saint Stephen's Episcopal School
Votes: 0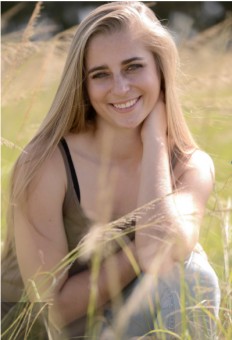 Hi I'm Emily Hiebner. I want to share with you my journey to create
the Girls For Girls Summit a leadership event designed to promote
self-confidence for adolescent girls.
What is Girls For Girls Summit?
Girls For Girls Summit was a full day, free event for adolescent girls that
was held on October 29th 2016 in Bradenton, Florida the community where I live. I chose to
design this event for teenage girls because it is a special time in a
girl's life when their minds and bodies are changing, and life
becomes confusing. I remember how difficult this time was in my
life.
What leadership role did I play?
In the fall of 2015 I attended an event in Victoria, BC Canada called
gDay. I knew right away that I wanted to bring a similar event to my
community. I suffered from anxiety when I was in middle school and
have worked with a licensed mental health counselor to learn how to
overcome adversity. I wanted to spend my community service hours to
create an event that would help young girls avoid mental and physical
distress that comes with growing up.
I enlisted 5 of my Varsity lacrosse teammates to help me organize,
promote and execute the event.
We began by asking family and friends for seed money. With the help of
adult mentors, we drafted a letter explaining our vision for the
event. I raised $1,200. We then identified a venue in the community
that had an auditorium that could support the event. Manatee
Technical College agreed to provide the venue.
Once we secured a venue, we focused on the program. We initially reached
out to speakers all over the country, and quickly learned that the
cost was prohibitive on our shoestring budget, so we researched and
contacted local motivational speakers. We were very lucky that
several local motivational speakers and a local radio talk show host
were willing to donate their services.
We worked with local groups including schools and the Girls Scouts to
promote the event. We set-up a Facebook page and a website for
registration; designed a program; sent press releases and did a radio
interview with a local radio personality.
The event was a tremendous success.
We had 85 participants including teenage volunteers.At
the beginning of the day many of the girls were shy and did not want
to be without their friends whom they already knew – and if they did
not know anyone they just kept to themselves. It was very quiet. By
the end of the day you could see all of the girls out of their shells
and having fun and being themselves. After the last speaker, the
girls broke into a spontaneous and unplanned dance party!
Though it was my idea to host this event, it was only possible with the help
of my teammates and the support of local community leaders and
businesses.
What challenges did I face along the way?

Girls For Girls Summit was modeled after a similar event in Canada. We
intended to use the support of the gDay organization, including their
administrative resources for planning, their website for promotion
and registration and their expertise in hosting similar events. The
founders of gDay did not envision a program hosted by teenagers, and
were concerned for their brand. The Girls For Girls organizing group
had to decide early on if we were going to pursue the event without
the support of the gDay organization. After careful consideration,
we decided to enlist the help of adult mentors to provide the
support, direction and guidance.
What impact did this event have on the community?
The impact of a leadership summit for young girls is difficult to
measure. The content of the event was educational in nature
delivered through topics including overcoming adversity,
self-confidence, friendship, making healthy choices and bullying.
The event had an underlying sports theme as I believe that playing
sports promotes teamwork and healthy behaviors and creates strong and
lasting friendships which are all building blocks for health and
well-being.
I hope these girls walked away from the event with a little more
self-confidence and a little less anxiety and that they are healthier
both physically and mentally. I hope they will elect to engage in
less risky behaviors, work harder in school, consider joining a
school sports team, and reach out when they need support.
It is my dream that these girls will have the confidence to 'pay it
forward' by taking action on a cause they are as passionate about
as I am about the health and well-being of young girls.
Planning the 2nd annual Girls For Girls Summit
We are now in the initial stages of planning the 2nd
annual Girls For Girls Summit for the fall of 2017. Though I will be
away at college, I am still helping the next organizing group of 6 of
my lacrosse teammates carry forward the tradition of this event. I
am proud to have started Girls For Girls Summit, and even more proud
that my teammates want to carry forward the tradition of leading
adolescent girls in their journey towards self-confidence and
success.