Name: Katelyn Kohn
From: Lincoln, NE
Grade: high school senior
School: Lincoln Southeast High School
Votes: 0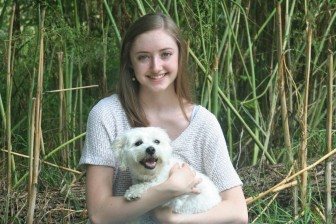 I have always loved animals more than anything else in the world. Ever
since I was a little kid, I've known I want to dedicate my life to
helping them. Last summer, I was looking for a volunteer
opportunity, and there was no question that I wanted to work with
animals. My local Humane Society seemed like the perfect place to
contribute to a cause I'm passionate about.
I've been volunteering a couple hours per week for almost nine months now.
For the first few months, I did basic cleaning like washing food
dishes, mopping floors, and doing laundry. These tasks are crucial
to the daily functioning of the shelter, and I was happy to help with
them. But of course, I couldn't wait until I could start working
with the animals. Now, I'm a dog walker. I get to play with the
dogs, cuddle them, and teach them tricks. All
the dogs get so excited when I take them out.  They jump up to
give me kisses and wag their tails like they don't have a care in
the world.  Being able to bring joy to those dogs' lives gives
me a sense of purpose that nothing else does.
Of course, it's not all smiles and tail wags. There are always
emotional challenges in the field of animal rescue. I've witnessed
euthanasia and come face to face with the reality of pet
overpopulation and prejudice against certain breeds. But, the
difficult situations I've experienced at the shelter only make me
more motivated to help animals.
I've always wanted a career with animals, so volunteering at the Humane
Society has been invaluable experience. Although, the animals I hope
to work with are a little more intense than cats and dogs; I'm
interested in wildlife conservation, particularly of endangered
species like elephants and tigers. Helping animals is also one of my
goals in my personal life. In the future, I plan on joining an
animal rescue team as well as fostering and adopting abused pets.
My ideal world is one where every animal has a loving family. Until
then, I will continue to volunteer with shelter animals so they can
experience the love they deserve while waiting for their forever
home. By spending just a few hours of my time every week with the
dogs, I know I'm making a difference in their lives.