Name: Madison Baughman
From: Jefferson City, MO
Grade: 12
School: Jefferson City High School
Votes: 0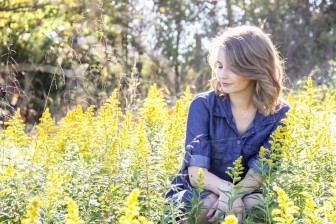 For as long as I can
remember, one of my goals has always been to create or do something
that touched the lives of other people for the better, though I was
never sure how to go about it. Fortunately, at the beginning of my
senior year, I was introduced by a friend to an organization that
changed my life: Missouri KidsFirst.
KidsFirst aims to
prevent and end child sexual abuse on local, statewide, and national
levels. When I began volunteering, I had no idea how invested I would
get in the cause. As a member of National Honor Society, I knew I
needed at least ten hours of community service to meet my quota for
the year – I would have never seen my drive and passion for this
organization to go so far as to keep volunteering even after I met my
quota because I loved it so much.
The KidsFirst staff
consists of less than ten employees, including three volunteers. This
small group of people works incredibly hard to educate people about
how to prevent abuse, and shows people what they can do to help. As a
volunteer, I have spent over fifty hours training in how to prevent
abuse, running the organization's social media, raising awareness
for events and fundraisers throughout the community, and even doing
things as simple as helping out around the office – every little bit
counts. I've become so passionate about this cause, and I truly
believe it has helped me grow not only as a student, but as a person.
It has changed me for the better in so many ways.
This is why
community service is so important. It doesn't just help out your
community – it changes you as well. If everyone took a little time
out of their week to give back to the communities where they live,
just imagine what the world would look like. Strong communities are
built by people who care coming together to make a difference. That
difference can dramatically change the lives of the people who need
it most for the better. And every little bit helps, whether it's
cleaning up litter, working at a local soup kitchen, or reading to
younger children at the library. When we come together to help
improve the lives of others, amazing things can happen.
I know that I will
be heartbroken when I have to move away from KidsFirst to go to
college, but the experience it has given me has left me with a drive
to keep volunteering and giving back as much as I can. The personal
growth I have gained from volunteering is like nothing else that I
can explain; it is an amazing feeling, knowing that what you do will
help other people. Wherever I go, whatever I do, I know that I will
find a way to give back to my community to improve the lives of other
people. After all, when we help other people, we are also helping
ourselves.